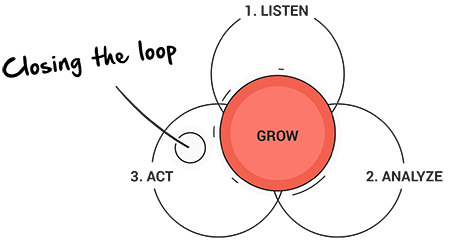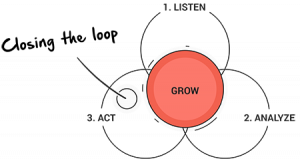 What is critical at this assessment point is that what we have learned be followed by some kind of action, if warranted. A mindful way to approach words or numbers generated by assessment is to view them as elements of a continuous narrative that, over time, reveals specifics and nuances of how our students are demonstrating, or not demonstrating, proficiency in the outcomes we have designated as crucial to our courses and programs.
ASSESSMENT ANECDOTE: RAISE YOUR HAND
At a 2016 national conference on assessment, the keynote speaker asked the 1000+ members of the audience how many of them were from colleges where assessment was regularly performed. About 99% of the audience raised hands. She then asked how many of those were from colleges that were analyzing data from the assessments, integrating results, and making changes in the next iteration of the course or program, sometimes referred to as "closing the loop." Only a dozen or so hands remained in the air.
Because of increased demands from regional accreditors, including MSCHE (Middle States Commission on Higher Education), to provide ongoing evidence that the Standards for Accreditation are being met, many more hands in the last three years have been raised. On a practical level, there is little sense in performing assessment unless the results are incorporated to make changes where needed.  Performing assessment simply to meet accreditors' requirements no longer works as it did in the past for a couple of reasons. One, accreditors require ongoing evidence that assessment is being used to improve programs, courses, and student performance. The newly revised MSCHE Standards (13th edition) require detailed ongoing evidence that the institution has a rigorous, evolving, and systematic process of assessing educational effectiveness and a comprehensive student learning experience. Two, assessment performed without heart, to simply satisfy stakeholders, lacks sincerity; the results will be of little substance and no value to the assessor.