THE OFFICE OF THE BRONX BOROUGH PRESIDENT
RUBEN DIAZ JR.
&
THE BRONX COMMUNITY COLLEGE
LGBTQI+ RESOURCE ROOM
Present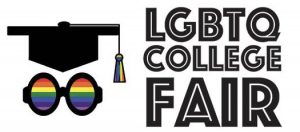 Since 2017, The U.S. Department of Education has taken various steps to roll back the protections and civil rights of LGBTQ students. A recent survey produced by NPR, the Robert Wood Johnson Foundation, and the Harvard T.H. Chan School of Public Health ("Discrimination in America: Experiences and Views of LGBTQ Americans") shows that many LGBTQ people report and perceive discrimination in school settings, both at the K-12 levels and in higher education. For aspiring college students who identify as LGBTQ+, it's crucial to find a college with a supportive learning environment where they can thrive. The LGBTQ+ College Fair would address this.
The fair invites colleges friendly to LGBTQ students. Colleges are strongly encouraged to bring representatives and members of their respective LGBTQ organizations (student clubs, resources centers, etc.) who can connect with students. The fair would be open to anyone who identifies as LGBTQIA and interested in pursuing higher education.
The LGBTQ College fair is sponsored by The Office of The Bronx Borough President, Ruben Diaz Jr., and the Bronx Community College LGBTQI+ Resource Room and is open to the public.
Learning Outcomes
Participants of the LGBTQ College Fair will:
Explore various baccalaureate and graduate degree programs
Learn about the campus resources available to LGBTQ students
Increase their knowledge of the admission requirements and applications
Learn about the various scholarship opportunities
Colleges expected to be in attendance:
The Cooper Union (undergraduate)
SUNY Geneseo/Undergrad
SUNY Empire State College
Fashion Institute of Technology, SUNY
SUNY Downstate Medical Center
University at Buffalo – SUNY
SUNY Alfred State
SUNY Purchase, both
CUNY Graduate Center
Lehman
Craig Newmark Graduate School of Journalism
CUNY Central
Hunter
NYC Tech
Baruch
Queens
John Jay
BMCC
CCNY
Queensborough
Lehman
LaGuardia