Vaccination Requirements for Spring 2022
All students registering for a fully in-person or hybrid class for the 2021 Fall Term and thereafter must be fully vaccinated to attend in-person classes unless you have been granted a religious exception or medical exemption. Requests for religious exceptions or medical exemptions must be submitted via the CUNYfirst Vaccine Verification Form.
The FDA granted full approval to the Pfizer vaccine on August 23, 2021, triggering a 45-day final deadline for CUNY students to be fully vaccinated and their vaccination documentation uploaded and approved in CUNYfirst to enroll in courses for the 2021 Fall Term. For the 2022 Spring Term, students have until January 14, 2022 to upload proof of vaccination into CUNYfirst. 
Important note: If students are not in compliance they will be dropped from all in-person or hybrid classes on January 19 and January 27.
Because colleges need two weeks to verify and approve the vaccination documents after students upload them, the documents must be uploaded to CUNYfirst by January 14 the latest. Students taking in-person or hybrid classes who fail to upload their proof of vaccination by January 14 (so the documents can be approved and verified by the start of classes on January 28) will be subject to potential academic withdrawal that could also impact their financial aid and make them ineligible for refunds for the courses.
For all health & safety guidance, visit cuny.edu/coronavirus.
There is no appeal for denied religious exceptions and medical exemptions.
Safely Entering BCC Campus (step-by-step instructions see below)
All students who need to come to campus (on-campus/hybrid courses, use the library, visit administrative offices, etc.) MUST be vaccinated.   Until Sept. 27,  there is only one way that you will be allowed on campus without being vaccinated:
You have a negative COVID 19 test result that is no more than seven (7) days old that was administered by the CUNY approved vendor "CLEARED4".
There are only three ways that you are allowed in the CUNY COVID 19 Testing Protocol

You have an approved medical exemption.
You have an approved religious exception.
You are in between vaccination doses (Moderna/Pfizer) or are in the 14 day waiting period after the last vaccination dose
If you fall into one of these three categories and have not received your welcome registration email from Cleared4.org, please note that you must first ensure that your BCC e-mail is your preferred e-mail on CUNYfirst. Please click here for the video instructions on how to update your contact information: http://www.bcc.cuny.edu/registrar/how-to-update-your-contact-information-in-cunyfirst/

After you do this, go to adnas.com/CUNYhelp and click on the blue button that says "CLICK HERE FOR CUSTOMER SUPPORT DESK" to submit a ticket.
BCC will only accept COVID test results from the CUNY vendor (Cleared4) that is on-site at every CUNY campus.  We will not accept results from an outside vendor (e.g., Urgent Care, Medical MD, your private physician).
Results cannot be more that seven (7) days old.
The testing vendor (Cleared4) is experiencing heavy delays in uploading results.  We recommend that you test early.
---
Campus Access – updated October 15, 2021
All enrolled students are required to be vaccinated, or have an approved medical or religious exemption and be participating in the monitoring program. Student participation in on-campus activities will require proof of vaccination.
Every visitor to a CUNY campus, whether accessing indoor or outdoor spaces, must provide proof to CUNY that they (i) are fully vaccinated or (ii) have had a negative COVID-19 molecular (PCR) test performed by an accredited lab no more than 7 days prior to the visit.
Visitors who are on campus for 30 minutes or less per visit do not have to comply with any COVID-19 vaccination or surveillance testing requirements applicable to CUNY staff unless the visitor expects during that time to be less than 6 feet distant of another person for a total of 15 minutes of more.
Visitors under the age of 12 do not have to comply with any COVID-19 vaccination or surveillance testing requirements unless they are enrolled in programs, but are subject to mask requirements.
Masks
All persons entering the campus are required to be wearing a mask at the time of entry.
All students are required to wear masks during classes.
Those not fully vaccinated must wear a mask indoors and outdoors at all times.
All individuals, regardless of vaccine status, are required to wear a mask when physical distancing cannot be maintained.
The only exceptions to the mask mandate are:
A fully vaccinated person alone in an enclosed space such as an office or conference room
A vaccinated professor in a classroom where social distancing can be maintained from everyone else in the class
Briefly while eating or drinking, provided social distancing is maintained.
In the Event of Exposure:
Fully vaccinated individuals who (i) had close contact with someone with COVID-19 and (ii) shows no symptoms of COVID-19, do not need to quarantine after exposure, but should get tested 3-5 days after their exposure AND not report to in-person work or class until they receive a negative test result or medical clearance to return.
An unvaccinated person who has had close contact with someone with COVID-19, regardless of whether they have symptoms or not, should quarantine for 10 days after a positive test. Isolation should be longer if symptoms are present – at least 24 hours after no fever without fever-reducing medication and all symptoms are improving.
Isolation is required for all individuals when diagnosed with COVID-19.
CUNY will continue to require unvaccinated individuals enter quarantine in the event of possible exposure.
In the Event of High Transmission or Community Spread
CUNY and each College monitors community spread and adheres to the latest CDC guidance in determining safety protocols required for safe, in-person operations. In general, 100 individuals or 5% of the total on-campus population testing positive using a 14-day rolling average would trigger a transition to remote learning or limit on-campus activities.
The scale back /shut down campus protocols are outlined in the Reoccupancy Plan located on the website and determinations will be made in consultation with Chancellor and the Office of the COO.
Step-by-Step Instructions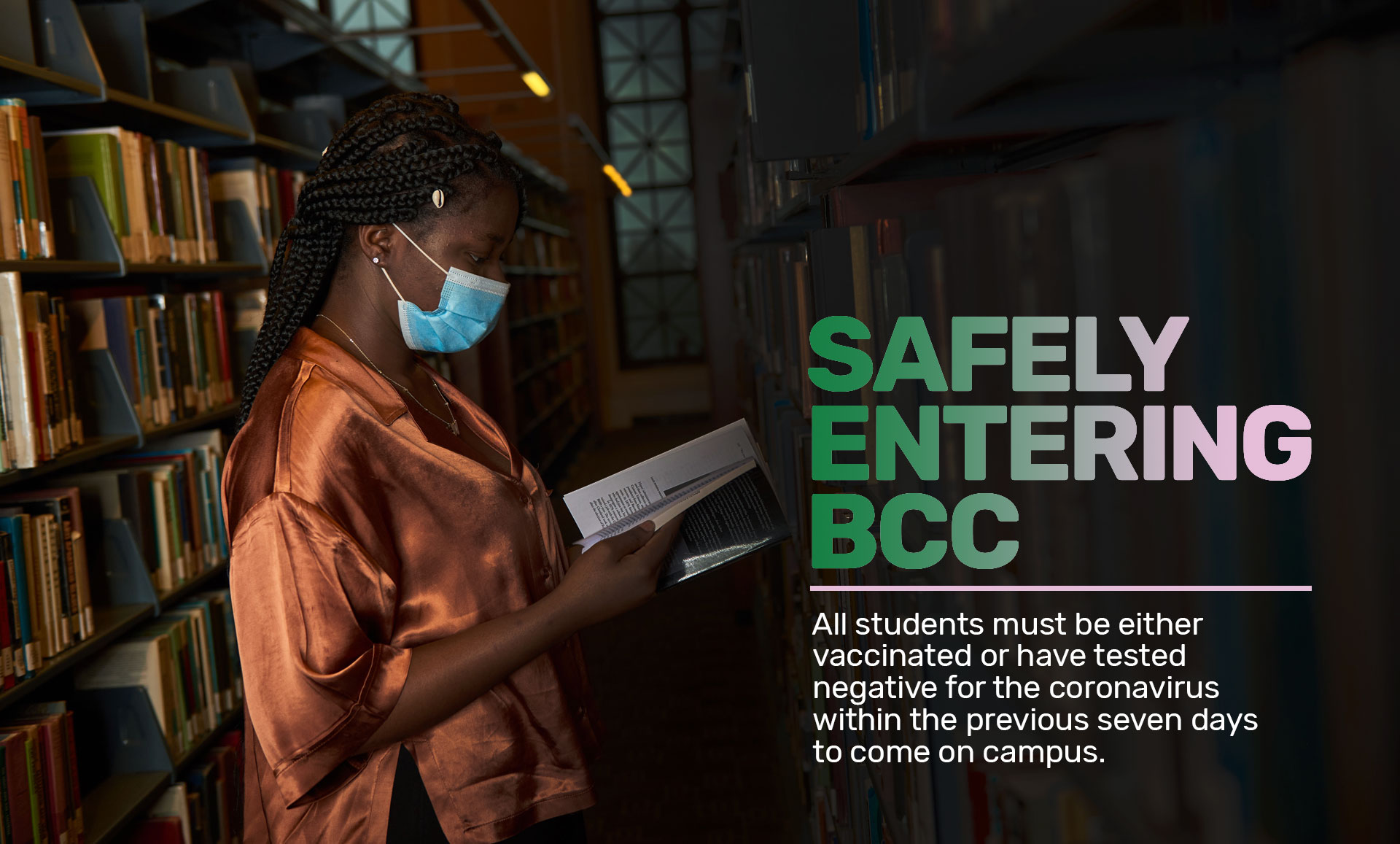 The Cleared4 system will now provide an "Access Pass" by which all vaccinated faculty, staff, and students, will be gaining entry to campus.  The Everbridge VaxPass system will no longer be available for campus entry after September 27th.
Currently, CUNY is in the process of uploading all approved vaccination information into the Cleared4 system.  At this time, the majority of faculty and staff data entries have been completed.  As the entries are completed, you will receive two emails from "no reply@cleared4work.com. The first email grants you access to the Cleared4 system.  The second welcome message will outline with for a user to register and receive the CUNY Access Pass.  Please be on alert for the Cleared4 emails from "no-reply@cleared4work.com".   For those student- facing offices, kindly alert the students and encourage them to look for the Cleared4 email.
The welcome registration email will provide you with a personal link.
1.     Copy the link and paste it into your browser, where you will get a CUNY welcome message and a link that states "Show Access Pass."
2.     Click on that "show access pass" link and you will receive the green "Cleared for CUNY Access" message, with the date and time stamp on the pass.
3.     Once you have successfully received the access pass, if you are using an iPhone, you can *add the link to your home screen and avoid going back to finding and copying the link daily. To save the app on your smart phone please follow the steps below:
From the Cleared4 welcome message, * click the Share icon (the square with an arrow pointing out of it) located at the bottom of the iPhone screen.
Scroll down to the list of actions and click on "Add to Home Screen".
Type a name for your site link. This will be the title that appears beneath its icon on your iPhone Home screen.
If you are using an Android, copy and paste the link into your Chrome browser, you will  get a CUNY welcome message and a link that states "Show Access Pass".
From the Cleared4 welcome message, Tap the menu icon (3 dots in upper right-hand         corner), scroll down and click on "Add to home screen".
Type a name for your site link. This will be the title that appears beneath its icon on your Android smartphone  Home screen.
You always have the option of pasting the link into your browser on every occasion that you would like entry to campus.

The new access pass will expire one year after the date of your final vaccination shot.
If you have not received your welcome email from Cleared4, please check your personal email address.  The welcome email is sent to your preferred email address listed in CUNYFirst.  If you need assistance with changing or updating information in CUNYFirst, please reach out to TSC@bcc.cuny.edu.  If you have not received the welcome email to your preferred email address, please reach out to Luisa Martich, luisa.martich@bcc.cuny.edu with a copy to Susan Fiore, susan.fiore@bcc.cuny.edu
Please note:  If you are listed as having "dual roles" within CUNY, (e.g., you are both a student and an employee) there may be a delay in receiving your welcome email.  CUNY is in the process of working on this glitch.
For additional information visit CUNY Access – Cleared4 Guide for Vaccinated CUNY Students, Faculty and Staff Cleared4 FAQs
Everyone, regardless of vaccination status, must wear a facemask:
1.
Inside all BCC offices and classrooms.
2.
Outdoors on campus when physical distancing isn't possible.
3.
The only exceptions are:
♦ A fully vaccinated person alone in a room
♦ A vaccinated, socially distant professor teaching a class
♦ Anyone eating or drinking who is social distancing