This page will evolve and we will continue to do our best to provide the most current information.  We hope to be a source of a wide variety of content from current events, faculty and staff research projects and fun tips to important information about what we are doing as a campus to impact the environment.
We are committed to environmentally friendly practices and processes that reduce waste, decrease our carbon footprint and avoid depletion of natural resources.  We participate in the annual NYS Annual Green Reporting and will summarize our 2019-2020 accomplishments and outlines some of our 2020-2021 initiatives here.
We have invested in several sustainability initiatives over the past few years which are now coming to fruition.  We are taking several steps to improve communication, education and collaboration, including:
adding sustainability as a standing agenda item to the Senate facility subcommittee,
creating this webpage and resources on the College website,
incorporating sustainability into campus reporting,
including a module on sustainability for the BCC Administrative Council,
promoting the NYC lunchtime learning series
The College has also dedicated resources to support sustainability initiatives and has built sustainability efforts into various unit activities including procurement, Campus Service Center, Campus Planning and facility operations.
Document Management
Document management and reducing paper waste is a key challenge for environmental sustainability efforts.  The Campus Service Center has spearheaded this area of the plan and has been working to encourage digital information management, improved copier management and the copier reduction/printsmart program, and is currently implementing scanning and shredding initiatives.
Copiers across the campus are set to automatically go into sleep mode, which is an energy-efficient lower-power state, after a set period of time of non-use. The printer returns to its normal power state when you send another print or scan job.  Copiers are also set to double-sided printing.  We will be working to add card access to printers during the upcoming two years.
To reduce the need for on-campus printing, and support telework, we have invested in several software and collaborative tools.  These tools have not only reduced the need for paper and printing, but have reduced the need for online storage.  As we move away from using email to store and share documents, opportunities also exist for improved document management and security.  We have also been working with the online bookstore to transition workbooks to digital versions.  This enables our students to have access to these valuable resources in any media from anywhere.  During 2020-2021, we will continue to partner with the online bookstore and will be promoting an opt-out program to encourage our community to opt out of junk mailings.   The Campus Service Center also is a hub for digital signage which is a mechanism to support paper and pamphlet reduction as the hub is expanded.
During 2019-2020, we hosted the second annual shredding event to purge documents that exceed the document retention schedules or contain personal information.  The shredding program does not just ensure proper disposal of records, it frees up valuable physical space.  While we are currently working remotely, we will schedule a shredding day in the Spring. We have also added scanning as a service provided by the Campus Service Center and has invested in several technologies to reduce forms and papers.
Energy Conservation
We are a proud participant in an energy conservation program called "Demand Response".  The goal of this program is to cut local and in-state electric consumption during times of peak energy demand to ensure electric system reliability and to decrease the probability and environmental impact of building new power plants to meet this infrequent peak demand.   As part of the program, we receive program event notifications that require proactive steps to reduce energy consumption throughout the Campus.  These events are triggered by high local usage or for a test of the system.  We participate in several events each year and while much of the reduction is in the powerplant, we use the opportunity to encourage the entire campus community to reduce energy use in many ways, such as by shutting off lights and electronic equipment and using the stairs.
Over the next five years, we will be updating the lighting in five buildings: Meister, CPH, Colston, Loew and Nichols to LED.  LED lighting delivers the same wattage with up to 50% less energy consumption.  LED lighting also does not emit as much heat, so it also reduces air conditioning costs. Finally, LED lights also have a longer life, therefore they will require less maintenance.
We use fossil fuel for heating, vehicles and generator use.  To reduce our dependency, we have been reducing the vehicle fleet and transitioning on-campus vehicles to electric.  In addition, we are in the process of upgrading the fuel monitoring systems and during 2020-2021  we will add more sensors.
As part of the Patterson Garage repurpose to a diesel automotive training center, electric charging stations are being installed to support the automotive training program and the campus maintenance vehicles.  We are also working to insource a shuttle service with idling features to promote travel by subway without generating excess exhaust pollution due to idling while waiting.
We are launching a pilot program as part of the Building Intensive Clean/Local Building Improvement Plan to remove floor tile and restore the concrete flooring with new flooring treatment.  This initiative will help improve indoor air quality, have a positive long-term cost impact and require less maintenance.  The first phase of this pilot will replace flooring in Bliss hallways this spring.   As part of the Building Intensive Clean and an Auxiliary supported project, we are adding/replacing window blinds.  This will help to reduce heat in classrooms and offices, thereby reducing air conditioning costs.
Maintenance and Facility Initiatives
The most notable initiatives were implemented by the custodial and maintenance teams.  By switching to fine mesh screens for polishing terrazzo floors, they eliminated the use of harsh chemicals, wax and strippers, while improving the shine and durability.   By implementing a microfiber program with inhouse laundry, along with cleaning solution stations which use green products, they have reduced disposable items while reducing the potential for cross contamination and have reduced the chemical use.
The maintenance team is rolling out an entryway mat program.  The mats are made of recycled material and will help reduce water and soil from foot traffic thereby reducing the corresponding cleaning and solution chemical use.  Efforts to replace paper receptacles with hand dryers will resume.  Early reports from CDC were that these may contribute to the coronavirus spread, but later reports were inconclusive.  In any event, we will resume the program and during COVID will also have paper towels available.  This effort will assist with longer term paper reduction efforts.  The college has also switched to bulk fill soap and sanitizer stations as these units do not generate as much plastic waste.
We are also proud to announce that the facilities team has been working to restore the long derelict greenhouse to operating condition.  They have cleared the site and are rebuilding the beds, lighting, plumbing and electrical.
Recycling stations have been installed in every building and paper collection bins have been placed in offices.  The PPS team is now facilitating the recycling with the assistance of NYC Sanitation.  We are in the process of installing smart "Big Belly" refuse stations.  These units use solar power to compact the refuse.  When fully installed, these units will send an email to PPS staff when full.  This will save in vehicle use, power and staff time and avoid unsightly trash overflows.
The Campus Service Center is becoming the central repository for PPE and facemasks and is purchasing fabric facemasks to encourage the use of reusable facemasks rather than disposable masks.  The Campus Service Center is also stocking reusable shopping bags and water bottles and coffee mugs to encourage reuse and reduction of paper and plastic waste.  The Campus Service Center also has receptables to collect old batteries and cellphones.  During 2020-2021, or when the college is back to full reoccupancy, the CSC will be hosting an eyeglass collection program to help recycle eyeglasses.
The Workforce Development program has hosted several clothing drives which encourage the reuse of gently used and professional clothing.
Water Management
We have over 70 hot/cold water stations on campus which are being removed and we will be installing filtered bottle refill stations.  The new water refill stations have an initial cost, but avoid the monthly fee of $20 per station currently expended.  In addition, the bottle refill stations require less energy to operate and promote reusable water bottles.
In addition to drinking water initiatives, the college is focusing on measures to reduce use of domestic water.  During 2020-2021, the college will be installing flushometers and touchless water faucets.  This effort has been expedited due to COVID, but will reduce water use and waste.
Community Awareness & Support
In April 2020, Dr. Neal Philip (Chairperson for the Chemistry, Earth Sciences, and Environmental Sciences Department) and Professor Paramita Sen hosted "Earth Day 50 – Sustainability Videoconference: Sustainability in the Face of a Pandemic". This three- hour long videoconference with approximately 300 participants examined the worldwide impact of the Coronavirus pandemic, its ensuing lockdown, the negative effect on human health and the economy and the positive effect on air and water quality in varied ecosystems.
While the coronavirus pandemic has had detrimental effects on all areas of our society, it has accelerated many initiatives that will have positive effects on climate and the environment.
For information about additional initiatives, news and tidbits you can visit some of these links,
As referenced in Monitoring Climate Change Gases From Meister, here is a fun tweet from Dr. Neal Phillip. We look forward to more.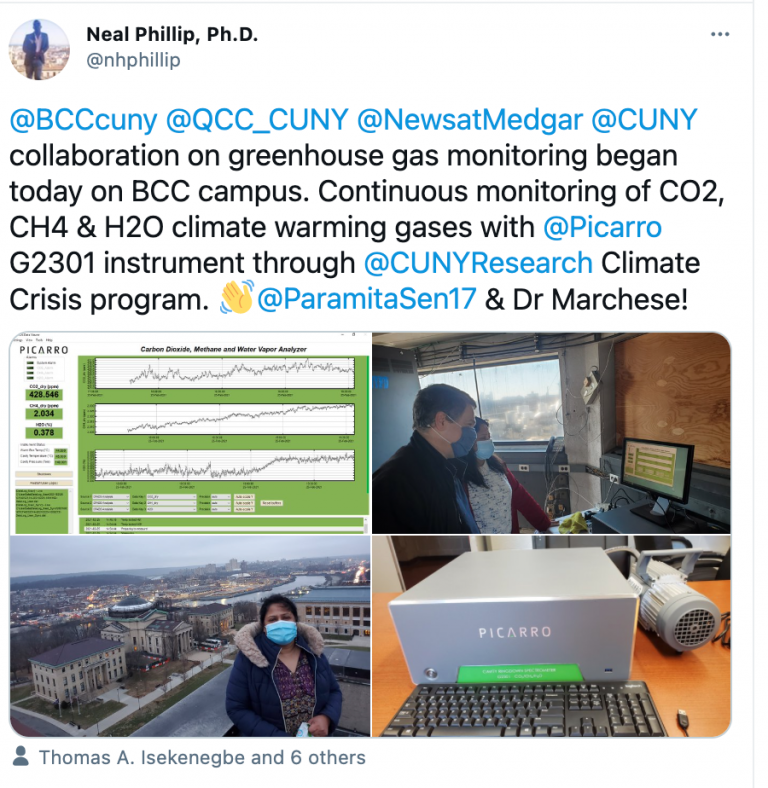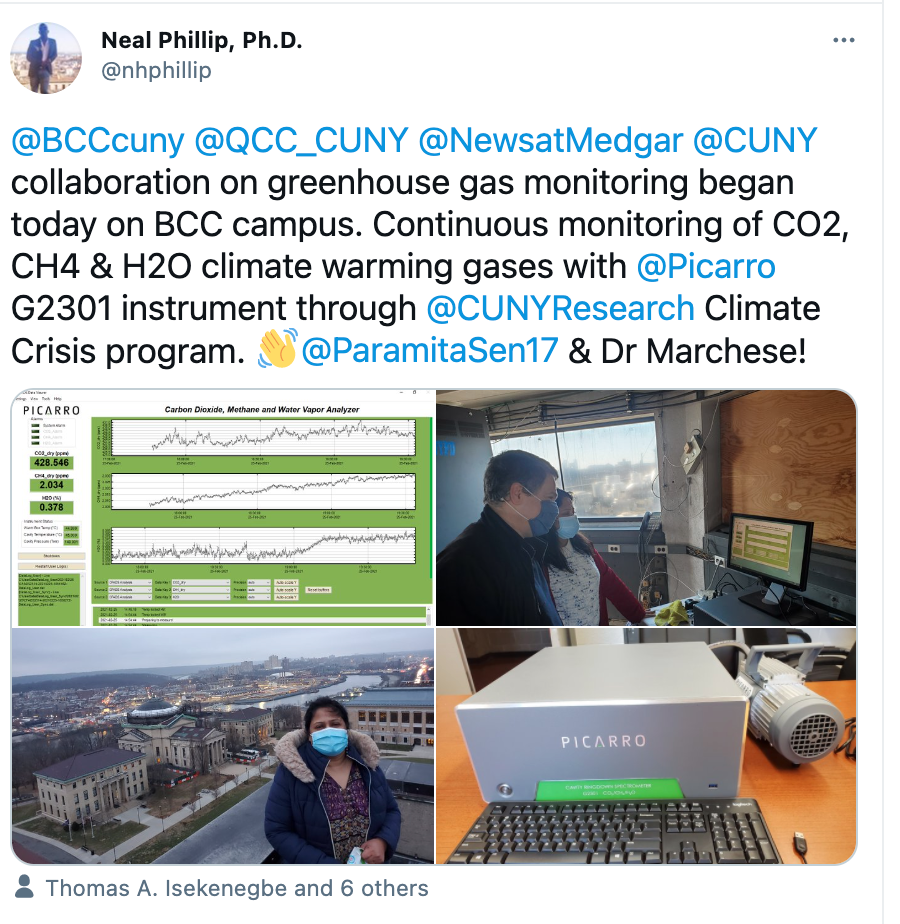 Resources
We hope that you have enjoyed this site so far. Our goal is that it is interesting, informative and fun.
HAPPY EARTH DAY 2021!