WomxnUp! Celebrates its 5th Anniversary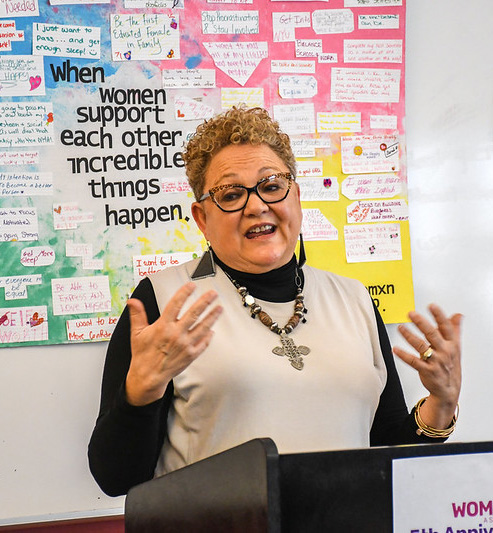 In celebration of Women's History Month, WomxnUp! at BCC celebrated its 5th Anniversary with a special program on March 14.
The event began with greetings and opening remarks by Professor Gloria Rodriquez, Director of WomxnUp! who has been at BCC for 24 years. She teaches a variety of psychology courses in the Department of Social Sciences, including Psychology of Women.
In her opening remarks, Professor Rodriguez said, "We are proud of our work at BCC where our Women's Center offers a welcoming, safe, supportive and inclusive space that serves the need of all female identified students and allies in the BCC community. WomxnUp! is a freedom space for students to be their authentic selves without judgment. We offer empowerment programs, mental health and wellness workshops, sister support groups, feminist leadership development and campus coalitions and collaborations to end domestic and sexual violence. WomxnUp! is an important part of the BCC community. "
At the event, welcome remarks were also provided by President Thomas A. Isekenegbe and Dr. Irene R. Delegado, Vice President of Student Success. The program also included presentations of traditional dance, poetry and a reading by Student Government Association (SGA) Senators Aryanna Chiraunjilal, Janoeli Perez and SGA Secretary Charlotte Lezama respectively. Attendees also heard from BCC Alumnus Jennifer Bortolami.
Professor Rodriquez also noted that WomxnUp! sponsored the first BCC Women's March in 2019 ~ chants of "Women's Rights are human rights" and "Our body, Our Choice", followed by a panel of Bronx community activists, addressing important issues our students and the broader community face.
WomxnUp! continues to collaborate with the Office of Student Life, Social Justice Network, Male Empowerment Network (MEN), the Association of the Latino Faculty and Staff, the Accelerated Study in Associate Programs (ASAP) program and other campus groups, offering a wide range of student-centered events.
WomxnUp! plans to offered a 2nd Feminist Leadership Certificate Series and continue with The Art of Wellness ~ Drop in Thursdays. The closing event for Women's Herstory Month, Lunch with Leaders on March 30th was a success and open to the entire BCC Community.
If interested in getting involved with WomxnUp! or would like additional information or please contact: gloria.rodriguez@bcc.cuny.edu