Due to COVID-19, the Hall of Fame is currently closed to visitors. 
While we are closed, please enjoy our Hall of Fame Brochure (pdf)
America's first Hall of Fame is located at Bronx Community College's Landmarked University Heights Campus.
Designed by legendary architect Stanford White for the then New York University-owned campus, the Hall of Fame was formally dedicated on May 30, 1901. BCC moved here in 1973, inheriting this architectural masterpiece.
Who is in the Hall?
The principal feature of the Hall of Fame is its 630-foot open-air Colonnade, which is lined with 96 portrait busts. All original works by distinguished American sculptors, the bronze portrait busts feature prominent and influential Americans, including: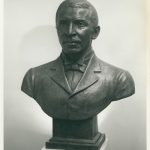 George Washington Carver (1864–1943) was born into slavery and went on to become among the most prominent scientists of his time. He is most famous for inventing more than 300 commercial uses for peanuts.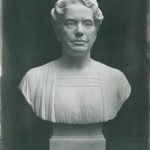 Lillian D. Wald (186–1940) was a nurse, activist, and who created the concept of "public health" while founding both the Visiting Nurse Service and the Henry Street Settlement House on the lower east side of New York.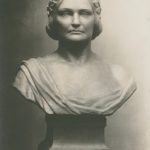 Charlotte Saunders Cushman (1816–1876) was an internationally celebrated actress, known for playing Shakespearian roles – both female and male. Her romance with sculptor Emma Stebbins is commemorated in Bethesda Fountain in NYC's Central Park; Cushman was the inspiration for the Angels of the Waters.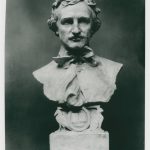 Edgar Allan Poe (1809-1849) was a writer, editor, poet and critic whose exploration of dark themes – including murder, madness, and despair – set the stage for the modern horror story. His stories about an amateur sleuth who solves crimes that stump the authorities have earned him the title of the Father of the detective story.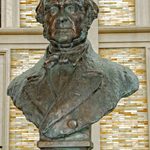 George Peabody (1795-1869) was a great American rags-to-riches story: born poor in Massachusetts, in a town that has since been renamed Peabody in his honor. At 11 he began work in the dry goods business. A merchant, wholesaler, and financier, he was the first to engage in large-scale philanthropy. He donated $9 million in his lifetime and pioneered the use of grants.
Due to COVID-19,
the Hall of Fame is
currently closed
to visitors.
Mon – Fri: 9:00 a.m. – 5:00 p.m.
Sat & Sun: 10:00 a.m. – 4 p.m.
NOTE:  A valid photo ID is required to gain access to the campus.
A $5 donation is suggested for a guided tour.
Tours are always free for school groups.
For tour information, contact:
Therese LeMelle, Director
Phone: 718-289-5160
Therese.Lemelle@bcc.cuny.edu
Remo Cosentino, Tour Guide
Phone: 718-289-5146
remo.cosentino@bcc.cuny.edu
Bronx Community College
2155 University Avenue,
Bronx, NY
SHARE
The BCC Archives Hall of Fame Collection seeks documents, artifacts and personal stories related to efforts to elect Great Americans.
Great Americans were nominated through a grassroots, democratic process. Citizens rallied support and raised money through letter writing, fundraising events, and bake sales to secure their nominees' election to the Hall of Fame.
Share your collections by contacting:
Cynthia Tobar, Assistant Professor
Head of Archives
Phone:718-289-5436
Cynthia.tobar@bcc.cuny.edu