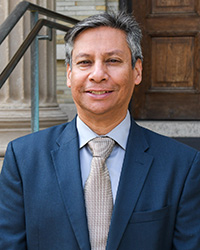 Luis Montenegro, Ph.D.
Vice President for Academic Affairs and Provost
Dean Luis Montenegro has been at Bronx Community College since 1997, with an initial appointment as faculty in the Engineering, Physics and Technology department. He served as department Chairperson for eight years until 2012. Since that time he has served in the executive team in the Office of the Provost, having served as Associate Dean for Curricular Matters, Dean for Academic Affairs and Interim Provost. He oversees the Office of Personnel Administration and Workload and the Center for Teaching and Learning and Technology.
Dr. Montenegro attended Los Angeles City College before transferring to the Massachusetts Institute of Technology, where he received a B.S. degree in Physics. He received a M.A. degree in Physics at City College of New York and a Ph.D. in Physics from CUNY's Graduate School and University Center.