GENERAL EDUCATION: CUNY PATHWAYS
Beginning in Fall 2013, all entering CUNY students seeking an AA or AS degree, came under a new General Education program known as Pathways.  The Pathways program assures easier transfer of CUNY community college students into CUNY's senior colleges and reorganized BCC's General Education Program.
Pathways requires 30 core credits for students in Associate of Arts (AA) and Associate of Science (AS) programs, with 12 credits in the "Required Core" and 18 credits in the "Flexible Core." Associate of Applied Science (AAS) students are required to take 21 total core credits. The BCC Senate voted (6/16/16) to adopt the CUNY Pathways Core Curriculum as the singular general education program at BCC, replacing the BCC model, first adopted in 2004.
Note that some BCC majors require specific courses in certain common course area. Please see individual program requirements in the college catalog.
For additional information on Pathways at BCC, please click here.
Pathways (Gen-Ed) Student Learning Outcomes (SLO) Structure:
In the Pathways common core structure, the core requirements are not based primarily on academic disciplines; instead, they are based on student learning outcomes (SLOs). The SLO foundation of the Pathways core ensures that, regardless of the courses a student takes, or in which discipline, certain learning outcomes are common to all student experiences. The BCC General Education Student Learning Outcomes are aligned directly with the expectations outlined in the MSCHE Standards as evidenced in the table below.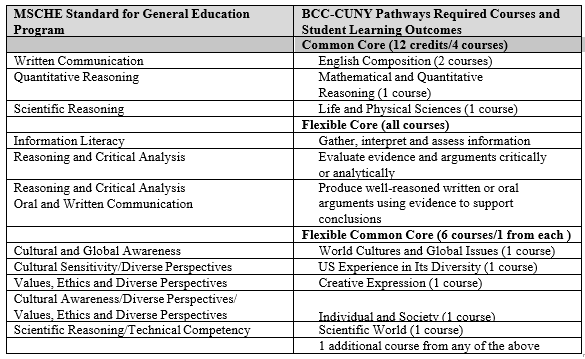 Periodic Assessment of General Education:
BCC consistently seeks to apprise whether students are reaping the highest benefits of BCC's general education program.  General Education is addressed through CUNY Pathways, which requires all CUNY campuses to cover the same required and flexible Core areas for 30 of the first 60 credits of an academic program.  When assessment results are reported by academic programs to the Assessment Council each semester, this information is synthesized and analyzed by the members of the Assessment Council, who are responsible for one or more of the individual Required or Flexible Core areas. BCC engages in additional avenues to determine if students are mastering our general education expectations. These include the Writing Intensive Requirement, the First Year Seminar, and the Collegiate Learning Assessment (CLA) test of Critical Thinking and Written Communication.
General Education Assessment
Pathways General Education learning objectives are regularly assessed through course-level assessments performed on "high-enrollment" courses residing with the different areas of the Common Core. The table below shows high enrollment Pathways courses with their recent schedule of assessments completed. Assessment reports are maintained in the Taskstream system by the Assessment Council representatives from each of the academic departments.
Pathways Curriculum: High Enrollment Courses