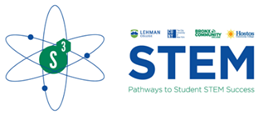 The aim of the Pathways to Student STEM Success (PTS3) program is to increase the number of students earning a bachelor's degree in Science, Technology and Mathematics by providing resources and enrichment, including intensive academic advisement, student-tailored academic support and research opportunities with faculty. PTS3 is a grant funded collaboration among Bronx Community College, Hostos Community College, and Lehman College.
Benefits of the PTS3 Program
As a PTS3 student, you will receive the following benefits:
Guaranteed admissions to Lehman College upon completion of your associate degree.
A stipend for participating in summer research, specific to your major, with faculty at Bronx Community College and Lehman College.
Access to a laptop for use during the semester.
STEM academic and career advisor that will ensure you stay on track to graduation and assist you with securing career related internships and jobs.
PTS3 STEM tutors, academic coaches, and peer mentors.
Writing workshops and weekly STEM review sessions.
Mathematics and statistics boot camp over winter and summer sessions to strengthen your skills and give you an advantage in your classes.
Opportunities to interact with your peers at BCC, Hostos, and Lehman College at various events.
Eligibility
To qualify for the PTS3 program, students must meet the following requirements:
Be an incoming freshman or transfer student (with no more than 15 credits)
Be pursuing an associate degree in one of the following areas:
NOTE: There is NO GPA REQUIREMENT to join the PTS3 program.