Netflix Hires BCC Workforce Training Participants for Film Production Jobs on Comedy Specials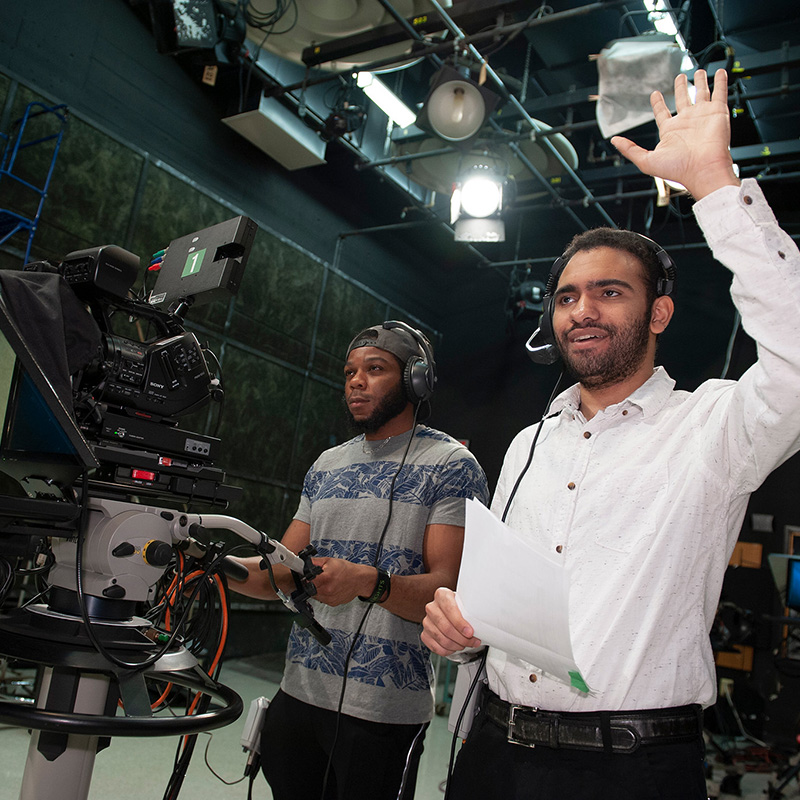 When Bronx resident Omari Sim Miller began his role as a production assistant for a comedy show being filmed by Netflix, he had just completed Bronx Community College's Film and Television Production specialized workforce training program. Through BCC's program, he gained knowledge of the lighting/electrical and Grip aspects required for the job and was looking forward to working on a set for the first time. 
"It was a great experience," said Miller, who now plans to pursue more work in this field. "It was good to put my knowledge to use in the work setting. By participating in BCC's program, I felt prepared. I showed up on time, ready and willing to learn, and then everything started to make sense."  
Miller is one of four BCC students that Netflix has hired recently as part of its Emerging Talent Initiative, which brings underrepresented talent into the live-to-tape multi-cam production world. The other three students began paid positions at Netflix at the end of August; each has the opportunity to meet with and receive mentorship from key production personnel while working on set.  
Madelaine Centeno, BCC Director of Workforce Development and Continuing Education, said ten students completed the Film Production Workforce Training Program offered in June. Students trained on site at Silver Cup Studios (one of the largest film and television production facilities in New York) for the final portion of the eight-week program. The Netflix experience enables them to earn an hourly rate and gain exposure at the same time.  
"Through our film production program, students learn practical skills that they can use on the job," Centeno said. "Our partnership with Netflix was initiated out of the company's desire to diversify its talent."  
Centeno said getting the word out about BCC workforce programs is a challenge. "Hopefully, more people will hear about our successes and how training can lead to opportunities such as those at Netflix," she said.  
More than 1,500 students came through BCC's workforce program during the past year.  
About BCC's Specialized Training for Union Jobs in Film & TV Production 
Bronx Community College's Continuing Education (non-credit) Film Production Training initiative helps equip students with the skills required for entry level work in New York's thriving TV and film industry. BCC's advanced hands-on workforce training program was created by the Division of Workforce Development and Continuing Education in collaboration with the Department of Communication Arts and Sciences, Local 52 of The International Alliance of Theatrical Stage Employees (IATSE), and the NYS Governor's Office of Motion Picture & Television Development. 
The film production training program provides rigorous instruction, including practical, portable technical skills for success in film production crafts including property, grip and electric. The goal is to help ensure a steady stream of qualified, diverse Bronx workers for rewarding careers in the film and television industry. Trainees that complete enough hands-on experience, improve their skills, and meet the requirements become eligible to apply for union membership.