The Legacy of Dr. Ruth Bass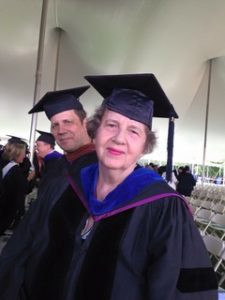 On Wednesday, January 20, 2021, Bronx Community College lost a pillar of our institution with the passing of Dr. Ruth Bass. For 55 years, Dr. Bass taught thousands of students in the Department of Art and Music and developed the careers of the many educators who worked with her and followed in her footsteps.
Her love of her students was the inspiration for the Harvey L. Bass Memorial Fund several years ago. Named in honor of her late husband, the fund has provided awards to talented Art and Music students. It was her way of celebrating and encouraging the aspiring artists she served so well. Now, as a tribute to her life and lasting legacy, the fund will be renamed the "Ruth & Harvey L. Bass Memorial Fund."
The following profile of Dr. Bass appeared in BCC's UPDATE newsletter last July shortly after her retirement.
THE ART OF A LIFE IN THE ARTS
On her last day as Chair of Bronx Community College's Department of Art and Music, Dr. Ruth Bass logged on to what she thought would be a routine staff meeting. Instead, the June 30th virtual gathering turned out to be a surprise celebration of her 55 years at BCC.
Some 50 colleagues, coworkers and friends wished her well (one even in song!), from adjuncts to BCC President Thomas A. Isekenegbe himself. The event was organized by the new Art and Music Chair Roni Ben-Nun, who also served as a wry master of the cyber-ceremonies.
"Thank you for everything," said Provost Lester Rápalo, one of the first to praise the guest of honor. "Your patience, your willingness to work for our students and for all the lives you have changed throughout your life."
Dr. Neal Phillip, Chair of the Department of Chemistry, Earth Sciences and Environmental Sciences, chimed in "We're going to miss you. You've been a great colleague, a great mentor for many of us, a voice of wisdom and concern. You are a champion!"
The torrent of tributes added up to a touching portrait of a career that Dr. Bass says began by "sheer accident."
"Someone told me that they were interviewing, I called and I was hired as a summer adjunct in 1965." This followed her graduation from Radcliffe magna cum laude with a B.A. in English and then an M.A. in art history from New York University (eventually followed by a Ph.D. in Art and Art Education).
Dr. Bass began teaching at BCC's old location at the former Bronx High School of Science. By the time she moved to the new campus in 1972, she was an assistant professor. She rose through the rank for the first half of her career, becoming the department chair in 1995.
During the 25-year tenure that followed, Dr. Bass totally transformed not only the Art and Music department but the entire cultural life of the campus. One of her first achievements was developing what is now a nationally-respected digital design program. "It's considered one of the best among non-profit schools," says Dr. Bass. "Little by little, by hiring people who were talented and dedicated, we really built it up."
One of those hires was Dr. Lisa Amowitz, now the director of the Digital Design program, who cites Bass's "pro-female stance," saying, "I always said she has pieces of the glass ceiling sticking in her scalp. She was deliberate about advancing women." Under Bass, women faculty with small children were given schedules that accommodated their busy lives. Male faculty who became parents also benefitted from Dr. Bass's awareness of their needs.
The entire campus benefitted from some of Dr. Bass's initiatives. The Hall of Fame Art Gallery in Bliss Hall now boasts a robust calendar of exhibitions by professional and student artists.
"We developed an internship program at the Gallery. The six interns learn all the aspects of curating and exhibition. The person who gets credit for that is Mary Jo Ben-Nun," says Dr. Bass (as always generously crediting the work of the staff she created). Such interns have gone on to jobs at the Cooper Hewitt Museum, the Longwood Art Gallery at Hostos Community College, City College Center for the Arts and Bronx Art Space.
Music concerts, such as the series that regularly took place in the Rotunda of Gould Memorial Library, are also a feature of campus life much enhanced by Dr. Bass.
Dr. Bass has also had an impact on the diversity of the college administration.
"I was the first woman to be chair of the Committee on Governance and Elections. I was also on the College Senate and served as the first woman chair of the Senate for 12-and-a-half years."
Meanwhile, Dr. Bass has enjoyed a separate career as a painter and art critic.
"I do portraits that are very realistic but also show the inner feelings of the person. I had a series called Portraits of Women that was shown at the College. I was influenced by Frida Kahlo. She has an intensity in the people that she paints."
As a critic who wrote many hundreds of reviews, Dr. Bass applied the same standards she taught her students to consider when look at works of art: "The subject matter, the use of the medium, the emotional impact."
The people of Bronx Community College remain her fondest memory of the College she served. "I love the students. They're excited about learning. And over the years I've appreciated the dedication of everyone at BCC, not just the teachers but on every level: PPS, Public Safety, office workers, administrators, the adjuncts who have to run to another job to make ends meet. They really know how important this experience is."
Ruth Bass leaves BCC with no greater admirer that its president. "Dr. Bass dedicated her entire professional life of five decades plus to our College and students, says President Isekenegbe. "This is a rare feat in academia and we grateful to Dr. Bass for her commitment and services to our community."