BronxNet Features BCC's Get PsyCh'D Program
BronxNet host Daren Jaime interviewed Dr. Emalinda McSpadden, Associate Professor of Psychology in the Department of Social Sciences, and Esther Levy, a Student Psychological Counselor in the Office of Personal Counseling, regarding the Get PsyCh'D program at Bronx Community College. They are co-directors of the program.
Get PsyCh'D is a paid internship for students pursuing careers in the mental health field. Students are trained to provide information about mental health services to other BCC students and do classroom presentations on mental health topics. The premise of the program is that a student experiencing a mental health crisis may be more inclined to reach out to a peer for help before opening up to a trained professional.
According to Associate Professor McSpadden, the program does two things: it provides students to help their peers to better understand mental health issues, and it is also a career development program where students are known as peer educators and are the recipients of intensive training, along with support and mentorships to help them on their academic journey in the mental health fields.
Esther Levy, who is a Licensed Clinical Social Worker, noted that Get PsyCh'D students receive at least 25 hours of training before they can become peer educators.
She and Professor McSpadden offer support to these students and share information and guidance to help them excel in their future careers in mental health.
Daren Jaime explained that the program looks for students that have a passion for psychology and mental health, social work, and human services. They also must have a GPA of at least 2.5.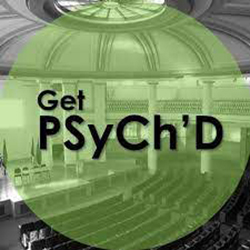 Esther Levy said: "Our favorite event in this program is the Symposium at the end of the semester where students reflect on their experiences and growth as well as their knowledge of what it takes to enter their chosen career in mental health."
Professor McSpadden added: "Students from the past stay in touch with us. Many of them move on to get graduate degrees. Get PsyCh'D creates a community through mentorships and helping the new students learn from their peers."
Get PsyCh'D works because research shows that students are more likely to open up to a peer first about a mental health issue. It also reduces the stigma of mental illness and counseling.
BCC students interested in joining Get PsyCh'D can go to the BCC website for more information, or access the application form at
https://forms.gle/5uE1dWsrSs5yyvQV7. The program accepts between 12 and 15 students each semester.