Stanford White's Gift to the Bronx
Stanford White (1853-1906) was among the most renowned architects of his day.  Working mainly in the Beaux Arts style, White designed a long list of residences for the wealthy and various public and private institutions, among them the monumental arch in Manhattan's Washington Square Park. Critics consider Gould Memorial Library (GML), which sits on the campus of Bronx Community College, White's greatest masterpiece and his enduring gift to the Bronx. Situated high on University Heights above the Harlem River, the Library was the centerpiece for what in 1894 was New York University's new University Heights campus, a generous parcel of rural land developed to serve as a retreat from the University's bustling downtown home.
GML was inspired by the Pantheon in Rome, the ancient temple to the Gods.  The library is laid out as a Greek cross with a circular reading room crowned by a soaring coffered dome. The rotunda is lined with 16 Corinthian columns made of rare Connemara Irish green marble. Statues of the Greek Muses line the lofty balcony and the floor is covered with marble mosaic tiles from Italy. Tiffany stained glass windows brighten the vestibule and encircle the rotunda's mezzanine level. The dome includes an oculus at its center, a round opening that is now closed, but once provided the only source of natural light.
White's desire was to pay homage to classical learning and philosophy.  He created more a temple to learning than a traditional library.  Though White's original plan called for a total of 19 buildings, both his life and dreams were cut short when he was murdered by millionaire Harry Kendall Thaw over White's affair with his wife, Evelyn Nesbit.  The crime took place in the second Madison Square Garden — ironically another Stanford White design.
University Heights Campus
We are the only community college in the US designated as a National Historic Landmark.  There are fewer than 2,500 National Historic Landmarks nationwide.
A National Historic Landmark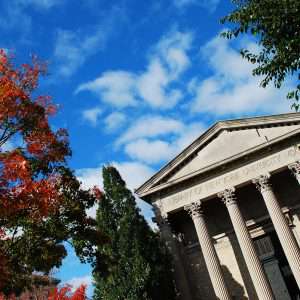 BCC is the only college in NYS – and one of the only campuses in the US – designated as a National Historic Landmark because of its collection of architecturally significant buildings.
It is in good company.  Other campuses with this designation are Florida Southern College, designed by Frank Lloyd Wright, the University of Virginia, designed by  Thomas Jefferson, and Principia College in Illinois, designed by Bernard Maybeck.
With 34 buildings on 45 acres, BCC is among the largest campuses in the CUNY system and the most historic. On average, our buildings are 80 years old.