2022 Bronx Community College Scholarship Gala
The Bronx Community College (BCC) Foundation Scholarship Gala is both a fundraiser for and a celebration of the College and its remarkable students. Some 300 industry leaders, elected officials, community partners, educators and a host of friends gather every year to provide scholarships to the dreamers, strivers and achievers who attend BCC. Our Foundation scholarships make it possible for students — 42% of whom come from households with an annual income of $15,000 or less — to stay in school, graduate and transform their lives for themselves and their families.
Dear Gala Guests
We are excited to host you on Wednesday evening. We encourage all guests to be fully vaccinated and consider testing before tonight's event. Masks are encouraged for anyone that prefers, but not obligatory. If you have any symptoms, please respect our community and stay home. We have taken appropriate safety measures to host this event, but we can not fully guarantee you will be 100% safe from COVID-19 while attending. Please have your ticket ready when you arrive to make entry seamless. We are so excited you will be joining our celebration!
Thank you.
Vanessa L. Gibson
Bronx Borough President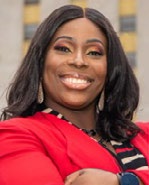 On November 2nd, 2021, Vanessa L. Gibson was elected to be the 14th Bronx Borough President to serve the over 1.4 million residents and families that call the Bronx home.
A native New Yorker, Ms. Gibson began her career serving the people of the West Bronx. Beginning in January 2001, while a student at the University at Albany, Ms. Gibson joined the New York State Assembly Intern Program and was assigned to then-Assemblywoman Aurelia Greene.  As an intern, she worked on legislation for the Member, attended meetings, and met with constituents and community groups on behalf of the office.
Upon graduation, Ms. Gibson served as Legislative Aide then would rise to District Manager overseeing the Bronx office and was responsible for the day-to-day operations of the district office, supervising the staff and all administrative and constituent services.  Ms. Gibson would serve as the
District Manager for several years until Assemblywoman Aurelia Greene would resign from office in May 2009 after twenty-eight years in the Assembly.  With community and family support, Ms. Gibson decided to run for the New York State Assembly and was elected to this position in a special election on June 2, 2009 to represent the residents and families of the 77th District in the Bronx.
Ms. Gibson would serve for two terms in the NYS Assembly and then decided to run for an open seat in the New York City Council in 2013, to replace the term-limited Council Member Helen Diane Foster.  Ms. Gibson was elected to the New York City Council in November 2013.
As a Council Member, Ms. Gibson was a leader on education, affordable housing, criminal justice reform, public safety issues and an advocate for alternatives to incarceration, tenant protections, increased training for our police officers, and held the distinction of being the first African-American woman chair of the New York City Council Public Safety Committee.
Samantha Magistro
Co-Managing Director | Bronx Pro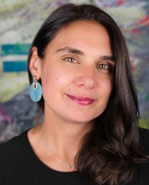 Samantha Magistro, Co-Managing Director, began her professional career at Bronx Pro in 2000. After four years of working on tax credit compliance, Samantha joined the company full-time to work on the University Macombs Apartments project as an Assistant Project Manager. While pursuing postgraduate studies at Columbia, Samantha remained active in her field, interning at the Manhattan's Borough President's Office and holding a parttime position as a Project Manager at Enterprise
Community Partners. Upon completion of her graduate degree, Samantha returned to Bronx Pro full-time in August 2008 to lead real estate development. She is an active board member of the Supportive Housing Network of New York, the DreamYard Project, Citizen's Housing and Planning Council, and the Foundation for Bronx Community College. Samantha has a Bachelor of Arts from Barnard College and a Master of Science in Urban Planning from Columbia University.
The Preservation League of NYS
accepted by Jay DiLorenzo | President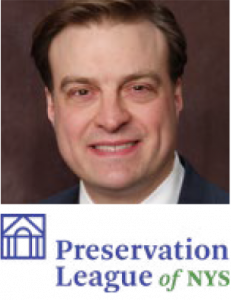 The Preservation League of NYS was founded in 1974 and serves as the only statewide nonprofit focused on historic preservation in New York. The League invests in people and projects that champion the essential role of preservation in community revitalization, sustainable economic growth, and the
protection of our historic buildings and landscapes. We lead advocacy, economic development, and education programs across the state. Connect with us at preservenys.org, facebook. com/preservenys,instagram.com/preservenys, and YouTube.
Save Gould Memorial Library Advisory Board Co-Chairs
Michael Parley
President | Development Consulting Services, Inc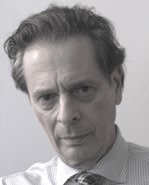 Michael Parley is the President of Development Consulting Services, Inc. which provides consulting services to developers and architects regarding the zoning and development potential of New York City property. Michael is one of the foremost experts in New York City's zoning laws. Trained as an architect and urban designer, Michael worked for the New York City Planning Commission for nine years, five of which as Deputy Director of Urban Design. While with the City Planning
Commission, he wrote or co-wrote numerous special zoning districts texts and zoning amendments, including Midtown Zoning. Michael provides developers, institutions, architects, and public agencies with guidance on zoning issues. Michael has taught urban design studies at Pratt Institute and the City College of New York, and lectured on zoning at many venues. He is a member of the Real Estate Board of New York and the American Institute of Architects.
Sherida E. Paulsen, FAIA
Principal | PKSB Architects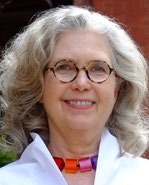 Sherida E. Paulsen, FAIA, has more than 35 years of diverse experience in architecture, urban design, and development. A principal with PKSB since 1999, she is a leading specialist in mixed-use projects with preservation concerns. Her unique perspective on the intricacies of historic neighborhoods makes her an unparalleled resource for projects in landmarked districts and other complex urban sites. She has a proven track record of building notable residential, academic, and public projects in historic districts, and her experiences in master planning for residential, commercial, and academic settings demonstrates her understanding of not just buildings, but communities.
Sherida is also a passionate believer in public and community service, having served as NYC Landmarks Commissioner and Chair under the Bloomberg and Giuliani administrations, President of the American Institute of Architects New York Chapter, Chair of the Van Alen Institute's Projects in Public Architecture, President of WX Women Executives in Real Estate, and a Director of the Governors Island Preservation and Education Corporation. She currently chairs the Riverdale Nature Conservancy and serves as a member of the National Building Museum Board. She is a Fellow of the American Institute of Architects.
Samuel G. White, FAIA, LEED AP
Consulting Partner | PBDW Architects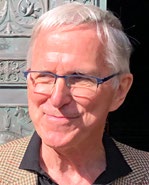 Samuel G. White, FAIA, LEED AP consulting partner at PBDW Architects, has practiced architecture since 1974. His diverse portfolio of educational, institutional, and residential projects focuses on designs that introduce new interventions to historic settings in ways that both reinforce and reinterpret their contexts. Recently completed work includes a new net-zero energy dormitory for the Center for Development Economics at Williams College, expansion of Saint David's School in New York City, restoration of the cast-iron facades of
462 Broadway, and rehabilitation of the historic Bay Head Yacht Club in New Jersey. A current project includes the modernization of Stanford White's Astor Courts in Rhinebeck.
A National Academician and a trustee or advisor to a number of preservation and arts organizations, he is the author of The Houses of McKim, Mead & White; McKim, Mead & White: The Masterworks; Stanford White: Architect; Stanford White in Detail, and Nice House. Mr. White lectures regularly to museum and preservation groups.
Gary Segal
Co-founder & CEO | Dynamic Star
Gary Segal brings his decades of experience,entrepreneurial leadership, spirit and core principles to Dynamic Star.
Segal is a 35-year veteran of New York City's construction industry. After taking over the reins of his small family contracting business in 1991, Segal expanded from a 35 employee company to a 1,500 employee organization. Segal's Five Star Electric became the largest union electrical contractor in New York City.
In 2007, Segal merged Five Star with the largest plumbing and mechanical contractor in the City and a private equity firm to create GreenStar Services. Four years later, GreenStar was sold to one of the largest General Contractors in the country. Five Star continued to be ranked #1 in the
New York Metropolitan area and #10 in the country in Engineering News Record. When Segal left Five Star in January 2016, Five Star had over $1.1 billion in backlog.
Some of Five Star's highly-profiled projects include One World Trade Center (Freedom Tower), the 9/11 Memorial & Museum and the new PATH Station- all at the rebuild at the old World Trade Center site, the electrification of the East Side Access Tunnel, the renovation of Madison Square Garden, the construction of CitiField, and One57 mixed-use tower, to name a few.
Then in November of 2017, Segal partnered with Brad Zackson to create Dynamic Star, and to date, Dynamic Star has five mixed-use developments in the pipeline totaling over 5,500,000 BSF.
Gary Segal
Co-founder & CEO | Dynamic Star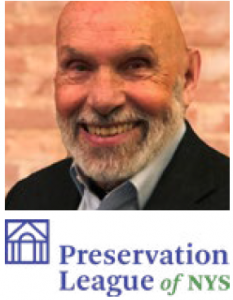 Frank Sanchis is a relative newcomer to the Preservation League Board of Trustees, but since joining in 2017 he has been an extremely active and
engaged member of this leadership group. He is a Vice-Chair of the organization, a member of the Awards Committee and has served as chair of the Governance Committee.
He has significant experience in architecture, preservation, and planning and holds a B.A. in architecture from Pratt Institute and an M.S. in</p.
historic preservation from Columbia University. He has been the Program Director for World Monuments Fund (WMF) since 2010. Before joining WMF, he held leadership roles in various preservation organizations, including the Municipal Art Society, the National Trust for Historic Preservation, and the New York City Landmarks Preservation commission. He is the author of American Architecture: Westchester County, New York, illustrated largely with his own photographs.