A BOOK CORNER CONTINUES BCC'S INDIA CONNECTION
India's New York City Consul General Sandeep Chakravorty, Bronx Community College President Dr. Thomas A. Isekenegbe and BCC faculty and staff inaugurated a new "India Books Corner" on Tuesday, October 22 in North Hall and Library.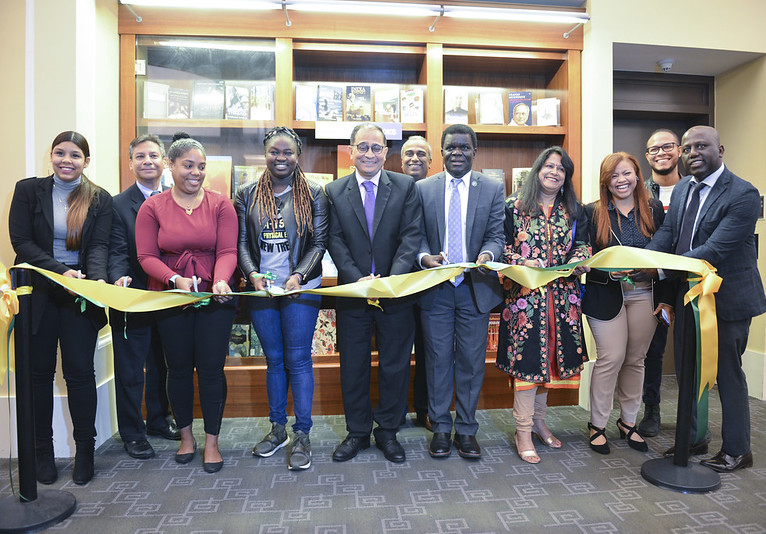 The addition of 51 books on Indian history, politics, culture and related topics will expand the Library's collection and reflect the more global perspective the College hopes to encourage. The gift will benefit students in courses and degree programs that touch on the topic of India and its place in the world.
"This is a seed for developing an interest in India for BCC students," said Consul General Sandeep Chakravorty shortly after the ribbon cutting for the India Books Corner on the Library's third floor. "We have developed this wonderful relationship with BCC. We have done a study abroad program with BCC and other CUNY students in India, and are trying to start a faculty exchange. We are also inviting your college to more events at the Consulate. Everyone can benefit from learning about India, which is an ancient country but a modern nation becoming important for the world economy, with many opportunities for Americans."
Addressing the attendees in the Thurgood Marshall Law Library Collection, BCC President Thomas A. Isekenegbe noted "We are starting to form a relationship with India, but India has been a part of this community for a long time. We have a lot of faculty with an Indian background — in the Chemistry department, approximately 25% of the faculty were born in India."
Interim Vice President and Provost for Academic Affairs Luis Montenegro, himself an avid read of all things Indian, expressed great excitement over the collection. "India is a deep well of knowledge, a deep well of spirituality," he observed. "It's a gift to the world."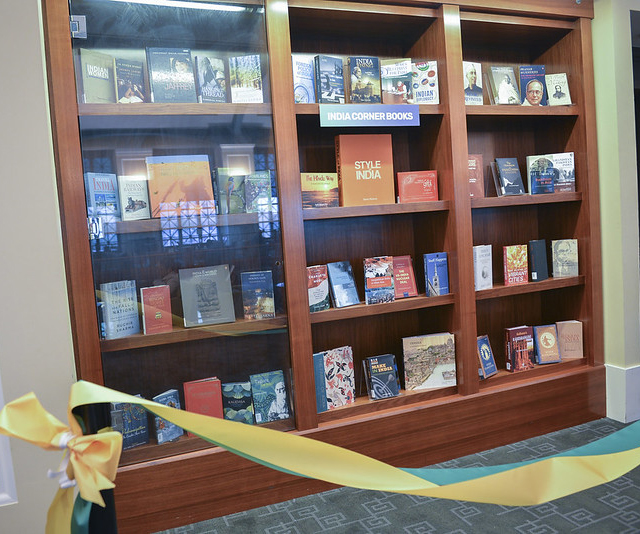 The College has been partnering with the Consul General's office since it hosted a Gandhi Global Solar Yatra Workshop in April 2019 focusing on solar energy and non-violence to celebrate the 150th birthyear of Mahatma Gandhi. President Isekenegbe also collaborated with the Consul General's Office to send 15 Bronx Community College and other CUNY students on the sustainability-focused study abroad program to the Govardhan Ecovillage in Maharashtra, India in August 2019. Under the guidance of Department of Chemistry and Chemical Technology Chairperson Neal Phillip, Professor Paramita Sen and Professor Dereck Skeete of Medgar Evers College, the students installed a solar-powered weather station and monitored climate and pollution on a micro-scale in Maharashtra and in New Delhi, and also engaged in cross cultural diplomacy and charitable activities. Several of the students who participated in the program attended the launching of the India Books Corner.
Consul General Sandeep Chakravorty predicted "This is not a one-off event. We will continue doing things together, so that the students of BCC can take more interest in what is happening in India."