A MARCH FOR SURVIVORS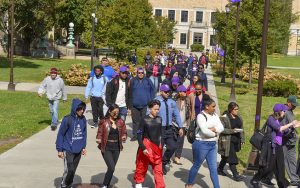 Braving an autumn chill, dozens of members of the Bronx Community College community marched across campus on October 10 for BCC's Second Annual Domestic Violence Awareness Walk. The event was intended to draw attention to an issue that is a central focus of the College's Department of Public Safety, which organized the event.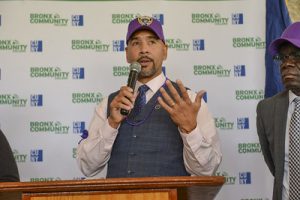 The walk was proceeded by a brief rally in the Meister Hall Lobby, which was lined with tabling displays by state, city and campus police and concerned community groups. On hand was a retinue of local elected leaders and officials, whose presence highlighted the importance of domestic violence prevention to the borough. They included Bronx Borough President Rubén Díaz Jr. and New York State Assembly Member Victor Pichardo.
"Quite honestly, I wish we didn't have to do this," observed Borough President Díaz, "But certainly here in the Bronx we know that we have more than our fair share of domestic violence. This day is about shedding light on this dark secret."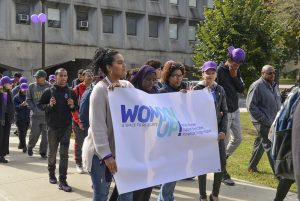 Assembly Member Pichardo addressed those who are experience domestic violence, whom he insisted should be called survivors, not victims. "It is not your fault. It is NOT YOUR FAULT. If a domestic partner is abusing you physically, mentally, economically, it's not about love. It's about control."
Following a presentation by the BCC Dance Workshop inspired by the themes of the day, the rally poured onto the Quad and morphed into a march of defiance and commitment.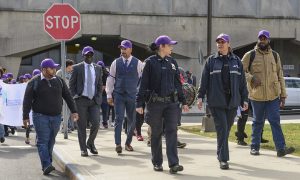 The event concluded with a women's self-defense demonstration conducted by Public Safety Specialist Alexandria Torres, the organizer of the day who is in charge of the Domestic Violence Unit of Public Safety. BCC's peace officers talk to hundreds of students every year about the issue and often accompany victims to their local precincts to report the crimes committed against them, thus becoming involved in cases in the Bronx, Queens, Manhattan, Brooklyn, and even Yonkers.
Until domestic violence is banished from the borough, the BCC marchers vow to return every year with their message of support.