A Student's Journey as a Refugee from Ghana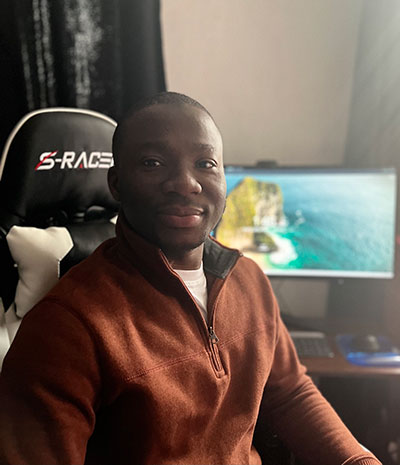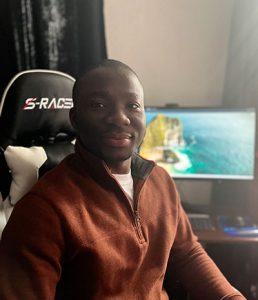 Abdul Samed Walker's incredible journey began in Ghana.
Part of an extended family of 15 children, Abdul's father worked for a non-profit that attracted much unwanted attention. Fearing for Abdul's life, he arranged for a visa so that he could leave Ghana for Brazil.
This was the beginning of Abdul's long and arduous journey to America.
Eventually, Abdul arrived in Brazil where he knew no one, and got a job working as a projectionist at a local cinema. There, he met a group of people who shared his desire to emigrate to the United States. They traveled together through Costa Rica, Panama, Honduras, and Guatemala eventually reaching Mexico.
Upon reaching Mexico things did not go as planned. Without the proper documents Abdul was denied entry at the border. Undeterred, he chose to swim across a river and enter the country illegally. The Mexican authorities captured and arrested him and found himself detained sleeping on the floor for a month
Determined to reach the United States, Abdul petitioned the Mexican authorities and after months of waiting, he was granted asylum in the United States as a refugee. Alone without any money, he boarded a bus and a week later, arrived in California. He was ecstatic. But his journey to freedom was again derailed.
Although granted asylum, he found himself spending yet another year in a dentation center in California while his case was reviewed. A generous soul, Abdul passed his time in dentation helping people, who couldn't read or write complete their applications for asylum.
His intelligence and people skills attracted the attention of an officer at the dentation center. Being granted asylum in 2017, the officer put him in touch with one of his relatives in New York City and arranged for Abdul to stay with them and help get him acclimated.
Finally, Abdul had achieved his goal of reaching the United States.
More obstacles awaited him. Where would he work? What did the future hold for him? With only a work permit, Abdul went off to find a job, his fortune taking a dramatic turn when UPS hired him. His colleagues loved his infectious smile. No task was too large for him to tackle. Working from midnight to 8 a.m. five days a week, he was grateful to have a job.
Impressed by his skills and determination a UPS worker who attended BCC advised Abdul to apply there. Having some money from his job at UPS, it still was not enough for tuition. About to abandon his dream of going to college, a fellow UPS worker paid his enrollment fees at BCC. The remaining of the tuition was paid by Abdul and scholarships from BCC.
It was Abdul's ambition to study computer science with an emphasis on software development. He went to BCC to take get his General Educational Development (GED) exam. A BCC advisor realized how intelligent he was and told him to transfer the credits he had from a school in Ghana Finally, Abdul was able to enroll full time in 2017 in the Accelerated Study in Associate Programs (ASAP), which helps students receive a degree as quickly as possible.
While taking classes, he was still working five days a week at UPS from midnight to 8 a.m. With little sleep and attending BCC full-time he, graduated in 2019 with a degree in Computer Information Systems.
"I would tell everyone to go to BCC. The amazing professors there told me to apply to the ASAP program. The program provided me with a mentor for my two years at BCC. That mentor arranged for me to get a BNY Mellon scholarship to pay all my tuition at Baruch," Abdul said.
In 2019 he left UPS and landed an internship with the NYC Department of Education in IT support. With this job and work as a security along with his scholarship, guard he graduated from Baruch in 2021 with a BS degree in Computer Science.
When asked what his advice would be to other students facing obstacles in their academic careers he said: "I allowed the struggles that I was going through to determine what my journey would be and where I wanted to go. With the challenges I was facing I allowed them to propel me to go the extra mile. My advice to every student is to take the challenges they face to help them achieve their ultimate goals. This worked for me."
One BCC faculty member that Abdul worked with was Professor Gene Adams, Director of Collaborative Programs.
Professor Adams said: "Abdul is an extraordinary person. His resiliency and determination helped him receive his degree from BCC and go on to obtain a full scholarship to Baruch. Despite the lack of sleep and obstacles he overcame as a refugee, nothing stopped him from achieving his goals. We are all fortunate to have someone like him in our lives."
He created the African Services Program in 2009 which linked more than 1,000 African students at BCC from more than 20 countries with African social work interns on both the graduate and undergraduate levels. "A lot of things in African culture are taboo, particularly talking about your problems or challenges in your family. The African Services Program addressed these issues and students like Abdul have benefitted from this, "stated Professor Adams.
There are few things we know for sure. If you meet him, you will be drawn in by his positive attitude and fierce determination not to let anything stop him from moving forward.
Abdul's journey continues as he looks for a job that will match his skills. With all that he experienced in his incredible journey; Abdul now needs to find a job as a software developer. Any company that hires him will be rewarded because this young man lets nothing get in his way on his road to success.