Help us Protect the Hall of Fame
Designated 2018 Landslide site by The Cultural Landscape Foundation!
The Cultural Landscape Foundation has named the Hall of Fame for Great Americans a 2018 Landslide site – a significant cultural site that needs to be saved.
The Hall of Fame for Great Americans was founded in 1900 to honor prominent Americans who have made a significant impact on this nation's history.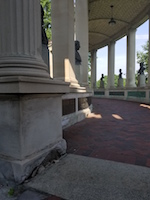 The Hall of Fame was commissioned by Dr. Henry Mitchell MacCracken, the then Chancellor of New York University, which owned the campus at the time. It was designed and built by legendary architect Stanford White.
The first hall of fame in the country holds 96 bronze busts of historic American figures who were selected between 1900-1976. In 2012 the site, along with White's Gould Memorial Library, was designed a national historic landmark.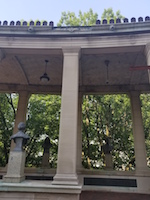 In recent years, the Hall of Fame has faced ongoing deterioration from water infiltration, failure of materials, and highway and industrial pollution. Damage to the Hall's 630-foot Colonnade includes cracked tiles and pavers, stained and discolored busts and Tiffany tablets, and deteriorated limestone.
Repairs are estimated to cost nearly $12 million – far beyond a public college's ability to afford. We are raising funds for the most urgent of these repairs, which will require $1.2 million.