BCC Celebrates English Professor's Debut Novel During Hispanic Heritage Month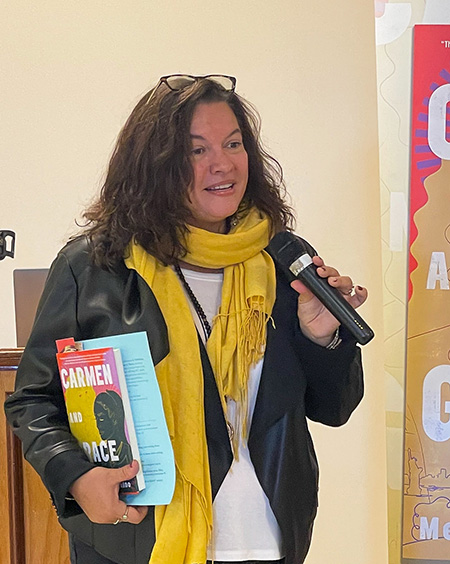 "It feels so good to bring this home to University Ave."
– Dr. Melissa Coss Aquino 
In a homecoming of many sorts, BCC's very own English Professor Dr. Melissa Coss Aquino shared her writing journey with more than 25 BCC students, faculty and staff and read from her debut novel Carmen and Grace to honor and celebrate Latin Heritage Month. Carmen & Grace was published last April, and since that time, Coss Aquino has been traveling around the country doing readings and book signings and participating in online book talks. Now she is back home in her native and beloved Bronx community discussing the book.
"My BCC students are a part of my heart. And I feel very lucky that I get to teach where I grew up," says Coss Aquino, who is of Puerto Rican descent and grew up just down the hill from campus. "I see my students as students, but I also see them as on their way somewhere.
Coss Aquino was introduced at the lunchtime Author Series event by Professor Gloria Rodriguez, BCC's Womxn Up! Faculty Coordinator. Rodriguez described Carmen & Grace as riveting and remarked on how easy it was to get so emotionally invested in the book's characters, whom she noted were so complex, full and authentic.  
Set in the Bronx, the book is a coming-of-age drama about two cousins lured into the underground drug trade at a young age and the inextricable ties that bind them, as one woman seeks power and the other seeks a way out. Coss Aquino says she wants her readers "to love the Bronx and see it for the character that it really is in the book." 
The idea for Coss Aquino's book was born out of how much struggle she witnessed as a part of her family, but also with the young at-risk teens she worked with in her first job out of college. Loyalty, protection, sisterhood, motherhood and friendship are some of the recurring themes.
Mostly, Coss Aquino hopes that people will read the book with the takeaway to treat crises and difficulties with love and compassion. "Human beings are not stereotypes. If we believe in social justice and prison reform, we have to care about the people who are in prison. We have to care about the people who have fallen through whatever systems we've created to try to help people lead decent lives," says Coss Aquino, who reflects on how her own mother was deeply misunderstood.  
In addition to teaching creative writing and all levels of developmental writing and composition, Coss Aquino has been a leader of varied clubs on campus and is the faculty advisor of Thesis, BCC's literary journal celebrating its 10th anniversary this December. Former student of Coss Aquino, BCC alum and Thesis editor Betsy Stengel also spoke at the event, generating emotion around the impact Coss Aquino has had on her life. "She taught me how to create the story that you want to live," Stengel says.  
No matter where Coss Aquino travels, she says she always feels the comfort of being back home. Being at this book event was no exception. "It's not by accident that I'm still in the Bronx," she adds. "I've had many opportunities to leave, but I've never felt safe anywhere else. Everywhere I go, there's some sense of not being quite right, but then here is where I'm home and I'm safe and I know it's OK," she says. 
The Author Series event was hosted by BCC's Womxn Up!, Association for Latino Faculty & Staff, the Office of Student Life, the Creative Writing Club and Thesis.