BCC Foundation 2019 Scholarship Gala, An Elegant Affair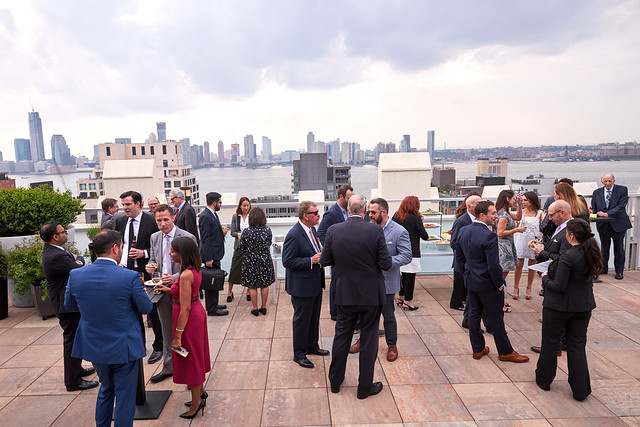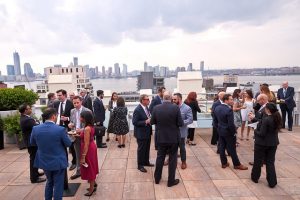 The Bronx Community College (BCC) Foundation 2019 Scholarship Gala began on the outdoor patio of the Tribeca Rooftop with cocktails and a spectacular view of midtown Manhattan at sunset. By the time it ended hours later in the dining room downstairs, the evening had generously added to the coffers for student scholarships and grants.
The formal program presented during a sit-down dinner was kicked off by BCC Foundation Chair Olga Luz Tirado, who introduced BCC President, Thomas A. Isekenegbe to the 250 guests."At BCC, we are mission-driven to serve our students from diverse backgrounds by providing them with an education that is both broad in scope and rigorous in its standards," President Isekenegbe proclaimed. "We're 61 percent Hispanic, 33 percent black. Fifty-five percent of our students are the first in their family to attend college. What a wonderful demographic — you can see that this truly reflects our city."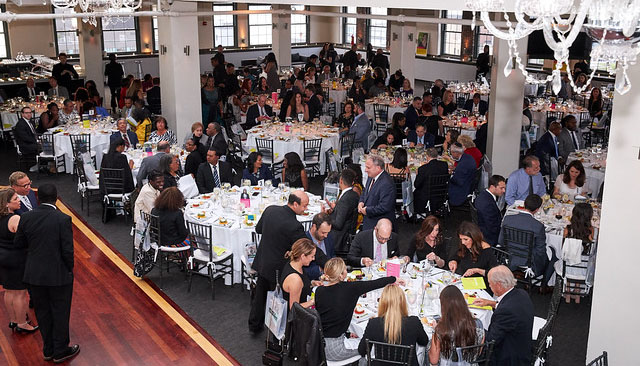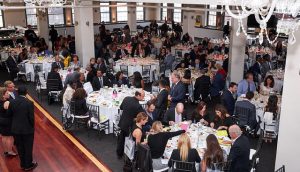 President Isekenegbe was followed by Michelle Johnson, a senior manager of Nissan North America, one of the evening's co-chairs and sponsors. Ms. Johnson discussed the partnership of BCC's Automotive Technology program with the Nissan/Infiniti Technician Training Academy program, which is contributing training, equipment and apprenticeships to BCC.  "We are looking forward to strengthening our partnership with the automotive technology program here at Bronx Community College, as well as growing the number of students working within the New York metro area as technicians at our Nissan/Inifiniti dealerships."
Appearing on video was the second Gala co-chair — Chazz Palminteri, the celebrated actor, author and director, who is also an alumnus of BCC, which he credits for the major career that followed. "What was true for me as a Bronx Community student then is true of these students today," he said. "They come to BCC to invent themselves. But to make that happen, they need something extra. They need you. They need help from people who believe that education is a right, not a privilege. Yale and Harvard take stars, Bronx Community College makes stars and the leaders of tomorrow."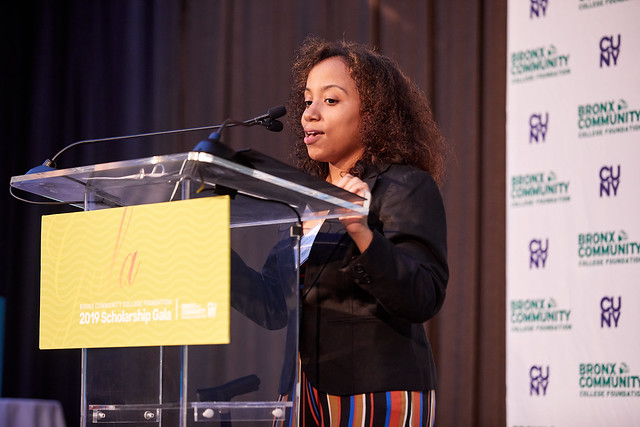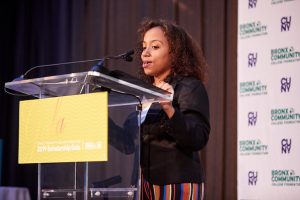 A particularly stirring moment in the evening was the address by the BCC Class of 2019 Salutatorian Joanmaris Cuello, who first came to BCC when her mother took classes while pregnant with the future Salutatorian, only stopping her studies to take care of her new baby who was born with physical disabilities. "Being a student at BCC changed me from the person that I used to be," Ms. Cuello recalled. "I become more outspoken and more open-minded about new opportunities. I also was more willing to show people as well as myself that I have what it takes to make it out there."
The audience responded with a standing ovation.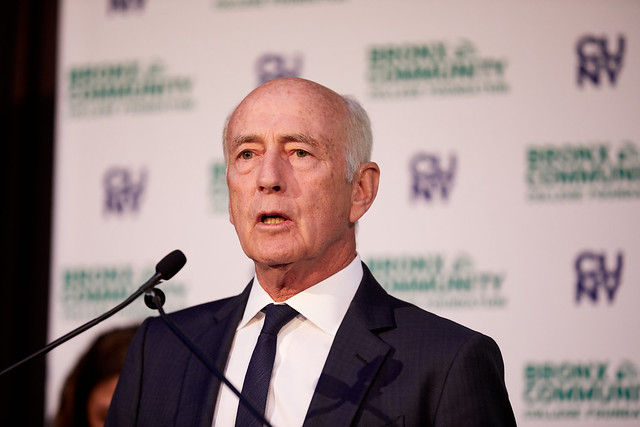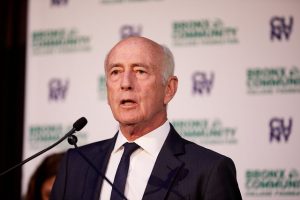 The four "Hall of Fame" award-winning honorees of the evening also had their time at the podium: Arthur Antin, Founder and
Former Chief Financial Officer of Veterinary Clinics of America, a BCC Distinguished Alumnus and Alumni Trailblazer Speaker; BronxCare Health System, a BCC training and education partner for over 50 years, represented that night by Rita DiMartino, Chair of the BronxCare Board of Directors; Joseph Kelleher, President of Simone Group and Chairman of the Bronx Chamber of Commerce, a BCC corporate partner who is also the chair of the College's annual Run the Bronx footrace for health and fitness; and Morris Heights Health Center, a BCC community health partner, represented by Mari G. Millet, the President and CEO.
The outgoing president of BCC's Student Government Association Carolina Valenzuela told the Gala, "Each one of my fellow students is indeed unique. But we all have one thing in common — we had a compelling and wondrous journey at BCC."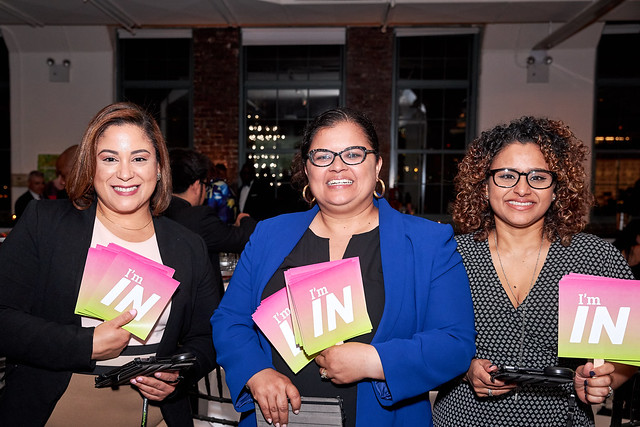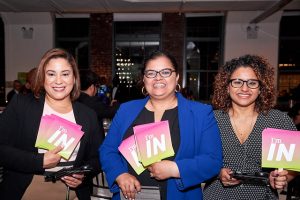 One of the focuses of the evening was the new Interns Equity Fund, which raises money to provide funding for BCC students who are in unpaid internships. Over 40% of BCC students come from households earning less than $15,000 a year. Accepting an unpaid internship — even when it provides a tremendous leg-up to a career — can cause financial hardships for students, who would likely have to turn down paid jobs that their families depend on. The Interns Equity Fund seeks to level the playing field and ensure that students are able to take advantage of opportunities they deserve.
To demonstrate the transformative power of internships, Michael Robinson, Vice Chair of the BCC Foundation, interviewed Deesha Dyer, who interned with the Obama administration and eventually rose to the position of White House Social Secretary. She spoke of the advantages of internships to the companies and organizations that provide them. "You want new people in your organization to keep it fresh, new and hip. You don't want to be the organization that started in 1925 and still looks like it's 1925. Student interns bring a fresh perspective."
And indeed many internships had been funded by the time the evening ended with farewells and renewed resolve to support the work of the Bronx Community College Foundation.
For more photographs visit the 2019 BCC Foundation Gala Album.