BCC Opens New State-of-the-Art Video and Audio Lab Studio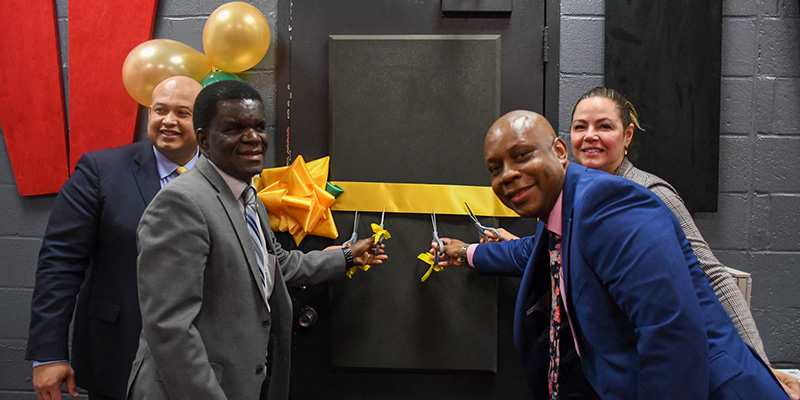 On Monday, February 27 there was a ribbon-cutting ceremony to open the newly renovated Video and Audio Lab Studio. The ceremony was attended by Dr. Thomas A. Isekenegbe – President, Dr. Lester Sandres Rápalo – Provost & Vice President for Academic Affairs, Dr. Luis Montenegro – Dean of Academic Affairs, Dr. Irene R. Delgado – VP of Student Success, Dr. Manny Lopez – Associate Dean for Student Development, Clifford Marshall – Director of Male Empowerment Network (M.E.N.) and Albert Robinson,  Director of Online Support
The lab is in Room 309 C in the Roscoe Brown Center and is open from 10 am – 4 pm Monday and Tuesday: Wednesday from 10 am – 2 pm and Thursday from noon until 4 pm. Appointments are required and can be accessed at http://www.bcc.cuny.edu/ctlt/av-studio/.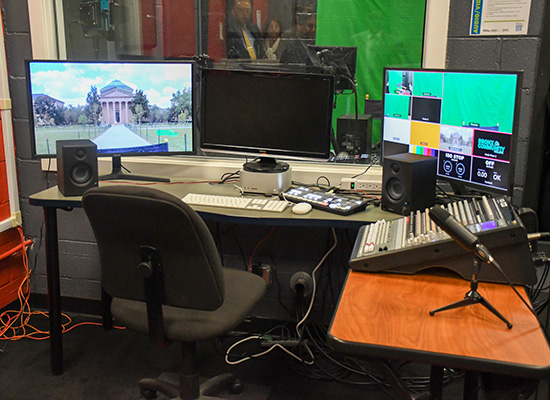 The newly renovated Lab has 4K top-of-the-line cameras, 8 channel video switches, and 16 channel audio. This means faculty can create video and audio lectures for the classroom or upload their presentations so the students can view them. In addition to their academic work, students are invited to create content for their personal use. For example, if they want to promote their band, they can make a professional video and audio presentation that would cost thousands of dollars to create in a professional studio.
BCC staff can create videos about the services they offer to students such as Club Fair and other events on campus that enhance the academic experience.
Albert Robinson, who previously worked as a producer at Manhattan Neighborhood Network (MNN), which is similar to BronxNet, joined BCC in 2007. He believes that the new Lab will help with enrollment as potential students will see it as an exciting addition to their college experience.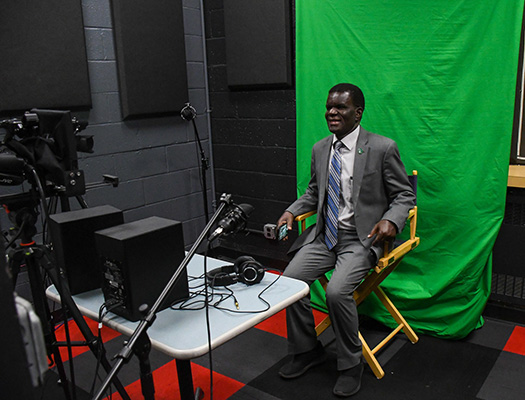 He said: "Along with one full-time staff person, Richard Martinez, a BCC graduate with a degree in Media and Digital Studies there are 6 part-time employees that can assist the BCC community to create professional products that will enhance learning and provide an opportunity to showcase their own projects.
We would like to thank ­­­­the President's Office, the Provost, Student Success Office, Academic Affairs, the Male Empowerment Network, Information Technology, PPS, and Campus Planning for making this collaborative effort possible."