BCC Professor Awarded Major Fellowship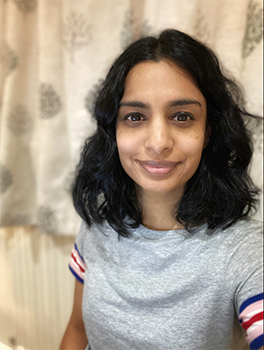 Associate Professor Prithi Kanakamedala of BCC's Department of History has become the College's first faculty member to be awarded an Andrew W. Mellon Foundation/American Council of Learned Societies Community College Faculty Fellowship.
Now in its third year, the prestigious program offers faculty teaching at two-year colleges across the country support for research, pedagogy and community engagement projects in the humanities and interpretive social sciences. This year, 12 of the 28 fellowships were awarded to CUNY professors.
The fellowship will run from this July to December of 2022. Dr. Kanakamedala will use fellowship to finish researching and writing a book entitled "Black Abolitionists" that looks at the history of the borough from the end of the American Revolution to the start of the Civil War. "Brooklyn's small but growing free Black community — ordinary people from all walks of life including educators, laborers, homeowners, writers, church leaders, journalists, and businesswomen — sought to shape their streets and neighborhoods in a radical anti-slavery vision," Dr. Kanakamedala says on the ACLS website. "They agitated for social justice in areas such as housing, employment, voting and education and pursued a radical vision of democracy in the United States."
"The book comes out of a five-year public history project that I worked on prior to coming to BCC. It is based on research that I've been doing now for over a decade. And while it is scholarly in terms of its research methods, in terms of audience it is aimed at people who love the history of New York City."
Professor Kanakamedala will also revise the HIS 37 African-American History course that she teaches at BCC. She intends to include the new archival research that she will complete during the fellowship that focuses on free Black women in nineteenth-century Brooklyn. She will also organize a public program series, in collaboration with a New York City cultural organization, that looks at Black Liberation movements.
"I think it's fascinating that an ordinary group of New Yorkers in the 19th century, a free black community who were routinely underestimated by others for their political power, found ways to organize and mobilize. I find ordinary people doing extraordinary things a beautiful and compelling narrative and one that still defines American democracy today."