BCC "Voice" Finalists Shine
Vocal fireworks lit up the Hall of Fame Playhouse in the Roscoe Brown Student Center on December 4 as BCC's own edition of The Voice took its final bows.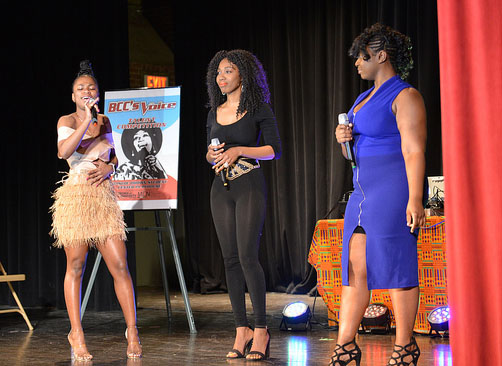 From an initial 12 contestants on October 23, the field went through five elimination rounds with performances in every genre — from reggae to soul to hip-hop to pop and even a dash of opera.  In the end, three singers vied for the gold trophy cup that stood stage left throughout the performance: Criminal Justice major Rhyannon Cole; Stephanie Dorleans, a Secondary Education major and senator in the Student Government Association; and graduating senior Daphnee Moreau, an honor student and Media Studies major. They faced judges familiar to the BCC community: Dr. Bernard Gantt, Dean of Student Success; Gene Adams, Director of Collaborative Education; and Student Life Specialist Assistant Shermekia Pierce.
The contest was organized by Clifford L. Marshall II, program manager of the Male Empowerment Network. M.E.N. is part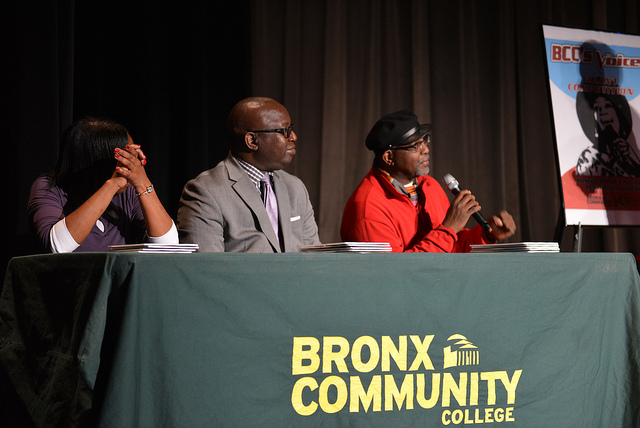 of The City University of New York's Black Male Initiative, whose mission is to support the educational success of students from underrepresented groups in higher education, in particular African, African-American/Black, Caribbean and Latino/Hispanic males. Marshall described the contest as "part of our engagement process — M.E.N. makes sure that our students participate in the life of the school," noting that the talent show fostered organizational skills and commitment to a goal.
The competition was fierce in the last round, with all three contestants staying within a point of each other. But in the end, the winner was… Rhyannon Cole, who thrilled the audience with her voice and dance moves in her interpretation of Mary J. Blige's "Family Affair." The great gold trophy now rests on a shelf in her home.
A portion of the finals can be seen here.