BCC WORKFORCE DEVELOPMENT STARS ON BRONXNET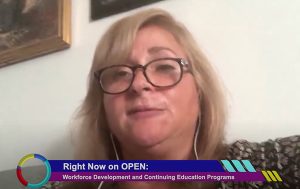 The people and programs of Bronx Community College continue to be showcased on "Open," a program on BronxNet, the Lehman College-based cable TV station.
The most recent BCC guests of host Daren Jaime were Madelaine Centeno and Aishah Dean of the College's Department of Workforce Development and Continuing Education. "We do everything and everything to get folks from the community training to be employed," said Ms. Centeno. That includes a Child Development Associate credential, which has been earned by over 2,000 students. "It allows people who want to work with young children the opportunity to go straight into a teaching assistant position," explained Ms. Dean. The two stressed how much of the training at Workforce Development is being taught online during the pandemic.