BCC's Diversity by the Numbers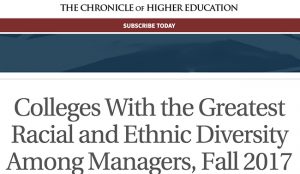 The prestigious Chronicle of Higher Education has ranked Bronx Community College as the two-year public college with the third most diverse managerial staff in the country. The City University of New York as a whole was well represented on the list. Four CUNY campuses were among the 10 two-year public institutions with the most diverse managerial staff and five four-year CUNY schools also made the cut.
"CUNY's long-standing commitment to promote and increase diversity across the administrative ranks is driven by a continuous desire to strive for excellence at all levels," said Chancellor Félix V. Matos Rodríguez. "To that end, I am pleased that The Chronicle of Higher Education listed nine of our schools among the nation's colleges with the greatest ethnic and racial diversity among managers."
Of the 83 full-time managers working at BCC in 2017, 33.7% were black, 31.3% were Hispanic and 3.6% were Asian, earning the College a diversity rating of 70.3.