BCC's NMT Program Reaccredited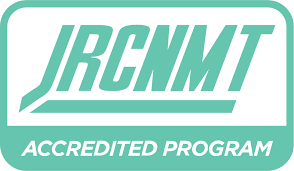 On April 17, for the seventh time in its 40-year history at Bronx Community College, the popular Nuclear Medicine Technology (NMT) program was accredited by the national Joint Review Committee on Educational Programs in Nuclear Medicine Technology (JRCNMT).
"BCC's NMT program has been the start of so many successful careers in the field," says President Thomas A. Isekenegbe. "Our thanks and appreciation to Program Director Grace Tursi-Wenzler for making this milestone possible."
The long process of accreditation was made even more challenging by the impact of the pandemic. "We submitted a self-study in January of 2020," notes Professor Tursi-Wenzler. "Normally that is followed by an in person visit, but the JRCHMT did a Zoom visit last September."
Nuclear Medicine is a branch of medical imaging that uses radioactive isotopes for the diagnosis and treatment of certain diseases. In addition to the educational content of the BCC program, the two-person JRCNMT team of reviewers evaluated the hours and placement of the NMT program's hands-on clinical training, the methods of evaluating the students and assessing the courses, the diversity of the program and its opportunities for grants and scholarships.
The review team also remotely interviewed all 24 of the first-year and second-year students, as well as faculty and administrators such as Professor Tursi-Wenzler, Dean of Academic Affairs Luis Montenegro, Associate Dean for Curriculum Matters and Academic Programs Alexander Ott and BCC President Thomas A. Isekenegbe.
"We got noted on three different strengths: support from the administration, response to COVID and 'enthusiastic program director,'" said the enthusiastic program director.
"I really want to thank the campus administration as a whole and Dean Ott in particular. They were a major help in putting the self-study together." Clinical Coordinator Mario DiDea and Program Coordinator Man Yu Chen were also key to the effort.
"I'm proud that we're an accredited program. It helps our students obtain jobs. That's challenging to do in a two-year program. The other two programs in the area are four-year programs at private schools, so they're a lot more expensive. We're able to afford the students the same licensure in a much more accelerated period of time. This is a great opportunity to leave BCC with a fulfilling and lucrative career."
The accreditation is good until 2027.