BRONX BEAT: New York City Council Member Eric Dinowitz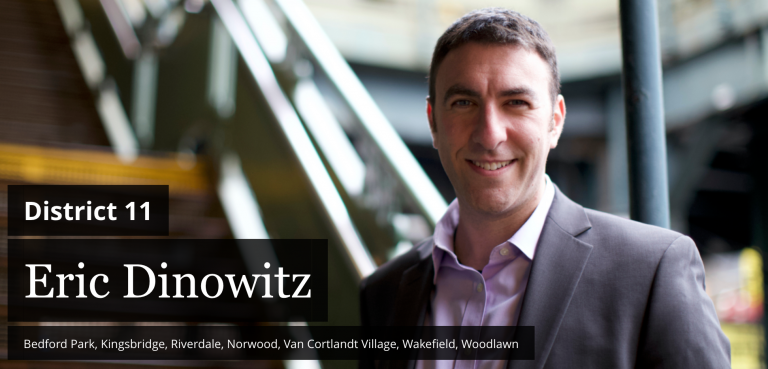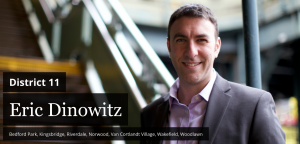 "Every single committee hearing I do, every time I talk about legislation, the question is how will the people of the Bronx be affected," says Eric Dinowitz, one of the newest members of the New York City Council, where he represents District #11.
Council Member Dinowitz was born and raised in Kingsbridge Heights and Kingsbridge in the north Bronx. "I attended public school from kindergarten through graduate school, including Bronx Science High School, SUNY Binghamton and CUNY Hunter."
Eric Dinowitz was raised in a family devoted to public service. His father is Assemblymember Jeffrey Dinowitz, his mother has served on the boards of local community organizations. But for the first years of his career, his own commitment to public service did not express itself through politics.
"Education was always a passion of mine. At 21, right out of college, I became a public-school special education teacher. My students were so smart and so capable but in many cases were not given the opportunity to succeed."
It was through his work as a teacher that he first ran for office as the head of his chapter of the United Federation of Teachers. He would go on to serve on the local Community Board 8 and as District leader of the Democratic party, where his issues expanded to include voting rights and services for older adults.
He was elected to the City Council in April of this year, where not surprisingly he sits on the Committee on Education.
"I just visited the BCC campus. I saw the Hall of Fame for Great Americans and sat down with President Isekenegebe."
"We have to be providing every student with what they need to succeed, to transition to College or transition to a career. A school should have a partnership with a union for an apprenticeship or a community college for early college classes or a private company for internships.
Dinowitz's seven other committees include those on Aging and Veterans.
For many years, he performed with Six13, an acapella group that sings Jewish-themed music. "What a joy it was to travel the world singing and visiting dozens of communities where we were treated like family." A sample of Six13's work can be heard here.
His twin sons are now in the first grade "and they are loving it. We in this city have to do everything we can to make sure that our children have a bright future."