Bronx Borough President's Visit to BCC for a Hispanic Heritage Celebration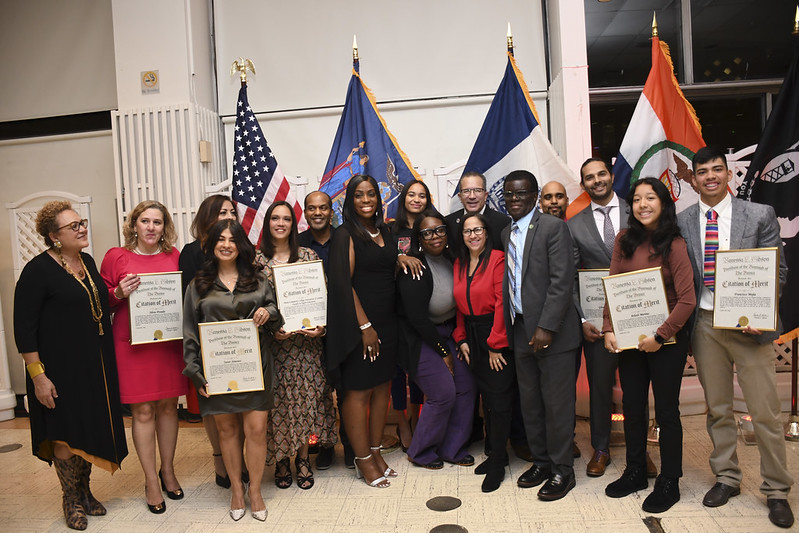 Bronx Borough President Vanessa L. Gibson hosted a Hispanic Heritage Celebration in partnership with Essen Health Care on October 20 at BCC.
The Mistress of Ceremonies was Monica Morales the host/reporter for Pix 11 News. Dr. Thomas A. Isekenegbe, President of BCC, gave the welcoming remarks. The keynote speaker was Robert J. Rodriguez, NY Secretary of State.
The event honored Hispanic organizations and their contributions to The Bronx, BCC and Higher Education. Members of BCC's Association of Latino Faculty and Staff and Cabinet Members received citations from Vanessa Gibson for their important work.
They included: Leidy Pichardo, Chairperson; Luisa Martich, Vice-Chairperson; Jeannette Davila Mendez, Secretary; Jasmine Caccavelli, Treasurer; Nelson Santana, Chairperson for Marketing, Communications and Research Committee; Gloria Rodriguez, Chairperson for Student and Campus Engagement Committee; Tiffany Dubon-Yard, Vice-Chairperson for Student and Campus Engagement Committee and Orlando Lopez, former Treasurer and Founding Member.
Also in attendance and recognized for their contributions to the Bronx by the Borough President were Silvia Posado, Senior Vice President of Network Development and Training, Essen Health Care, Janet Jimenez, Senior Property Manager from the Bronx Terminal Market and Glenn Saenz, owner of Equis Fitness.
BCC thanks Vanessa L. Gibson for her continued support of the College and her acknowledgment of the contributions to the Hispanic Heritage Celebration made by our Association of Latino Faculty and Staff.