Bronx Community College Names Dionne Dodson as Next Director of Athletics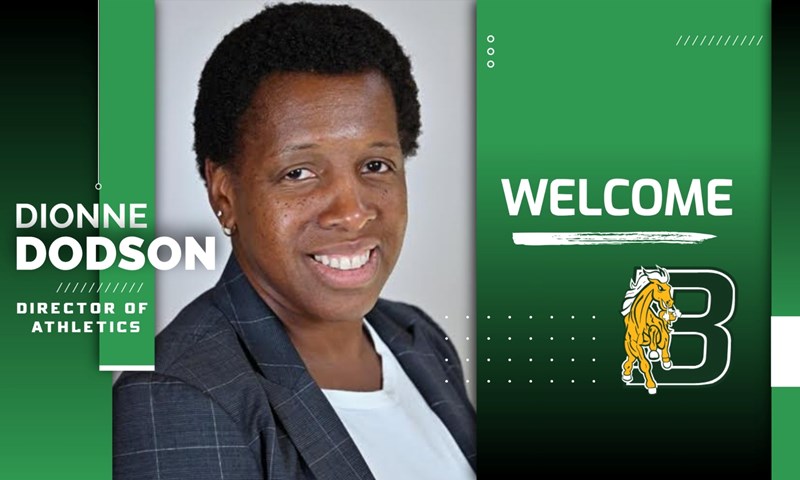 Following an extensive national search, Bronx Community College (BCC) selected Dionne Dodson as its next leader of Broncos Athletics. Dodson, who has spent more than two decades at the Division I level, joins BCC after coaching Women's Basketball and serving in administration at St. Francis in Brooklyn for 15 years.  
For the past year, Dodson was the Associate Athletic Director at St. Francis. Prior to that, she had served four years as the Assistant Athletic Director.  
"The support across the BCC campus for student athletes along with the family atmosphere of the community is something very special," Dodson said. "That is why I believe the Broncos are on the road to incredible success both on the court and in the classroom." 
Dodson will oversee BCC's five sports teams, including Men's Basketball, Baseball and Soccer and Women's Basketball and Volleyball. At BCC, student athletes graduate at a 2.5 times higher rate than non-athletes. Emphasis is placed on ensuring that athletes excel in the classroom as well as on the field or court.
"It is truly an exciting time for athletics here at Bronx Community College," BCC Vice President for Student Success Dr. Irene R. Delgado said. "The hire of Dionne as Athletic Director solidifies our institution's commitment to bringing seasoned, dynamic, and impactful leaders to the administration and athletics. We are fortunate to have someone of her caliber and whose career has been so successfully dedicated to student athletes and Diversity, Equity and Inclusion issues in athletics."
More About Dionne Dodson
Prior to being named Associate Director of Athletics at St. Francis in Brooklyn, Dodson served as the Terrier's Women's Basketball Associate Head Coach. In her first season in that role, the Terriers won the school's first championship in the Northeast Conference, earning an automatic bid to the NCAA tournament (the team's first time playing in March Madness.) The Terriers were named to the WBCA Top 25 Academic Honor Roll on multiple occasions and won the top-25 WBCA Academic National Championship.
Dodson spent two seasons at Fordham University, where she was involved in all aspects of the Athletics program. Her duties included coordinating the entire recruiting system; assisting with scouting and tape breakdown and on-floor coaching; and organizing summer camps. One of her recruits to the Rose Hill campus ranks seventh all-time on the career scoring list.
Prior to Fordham, Dodson served as Assistant Coach and Recruiting Coordinator at Manhattan College for three years. Of the players she recruited to Riverdale, five student-athletes rank among the top in career scoring, while three are among the career leaders in rebounds. In her time with the Jaspers, Dodson coached numerous athletes to All-MAAC selections, two of which were named to the First Team, two to the Second Team and two Third Team while having three players named to All-Rookie teams.
Dodson received her start in coaching at Saint Francis University in Loretto, Pennsylvania, where she served as an Assistant Coach from 1999- 2002, helping the Red Flash win the 2000 and 2002 Northeast Conference regular season and tournament championships and advancing to the NCAA Tournament. She was responsible for developing and monitoring the strength and conditioning program as well as monitoring the academic progress of the student-athletes.
A 1997 graduate of Muskingum College in New Concord, Ohio, Dodson received a bachelor's degree in psychology. She later earned a master's degree in Sport Management from Slippery Rock University in 2003.