$1 Million Check Presentation For Green Action Challenge Award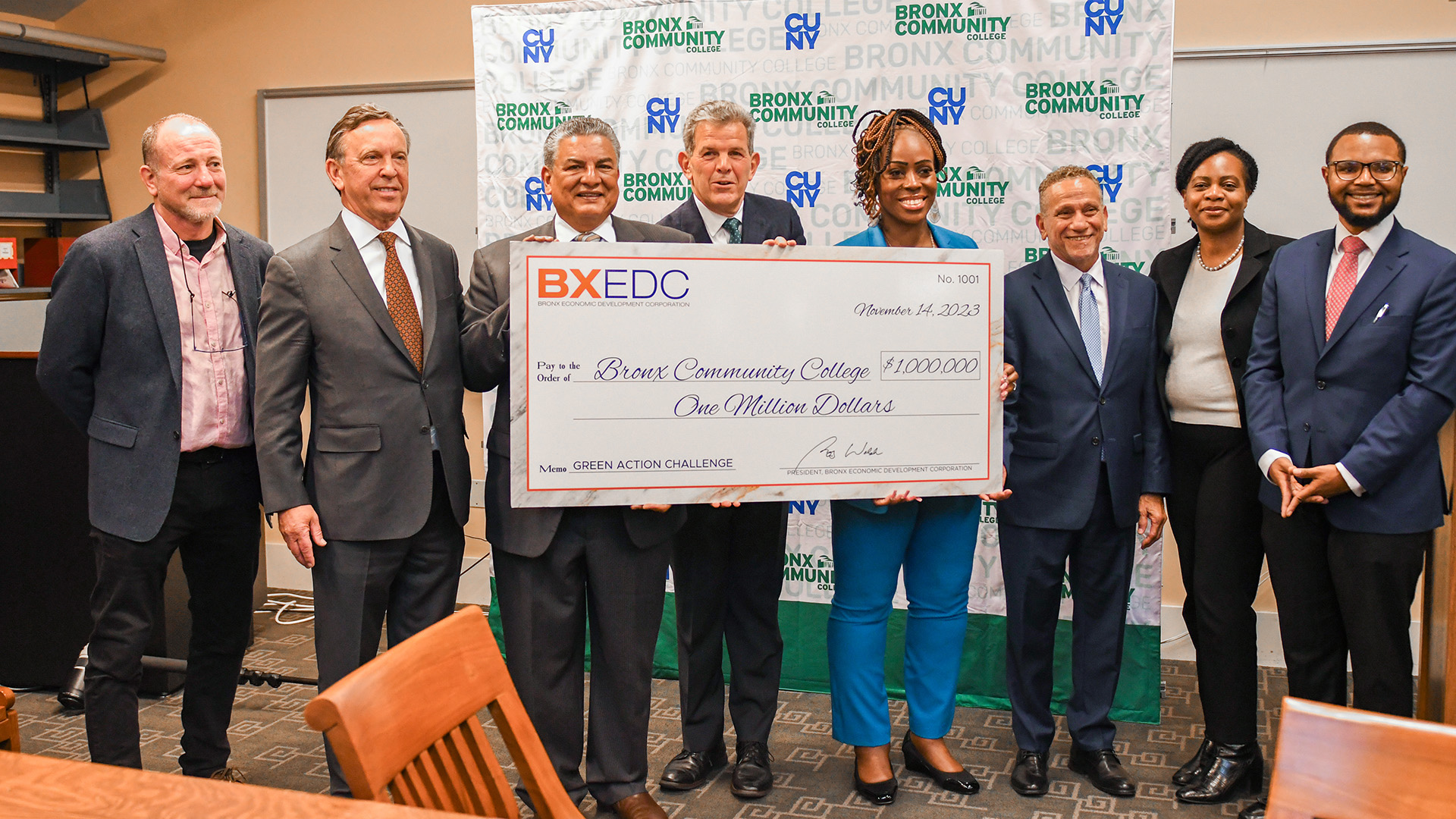 I am very pleased to share with you that BCC has been selected as the winner of the inaugural Bronx Green Action Challenge, an exciting and important environmental sustainability challenge sponsored by the Bronx Economic Development Corporation (BXEDC). As the winner of the challenge, in which we competed with other private and public colleges in the Bronx, BCC will receive a $1 million award, funded by the New York Power Authority, to develop and implement a plan to both improve campus sustainability and reduce the College's environmental footprint.
The $1M award will be used to launch the BCC Sustainability Hub (BCCSH), which will both directly address environmental issues on campus and create a green workforce training program. Specifically, the funding will be used to create rain gardens to enhance the campus's appearance and address flooding, introduce food waste composting and a robust recycling program for plastic and paper waste, install low-flush toilets to reduce water consumption on campus, develop a solar roof demonstration, and provide solar and wind turbine training for BCC/CUNY students and Bronx residents.
The impact of these changes will have enormous benefits for both the community and environment. With the installation of low-flush toilets, for example, BCC could potentially save over two million gallons of water per year–enough to fill more than four Olympic size swimming pools. The focus on composting and recycling will enable the College to compost approximately 852,000 pounds of food waste and keep 180,000 plastic utensils out of landfills each year.
BXEDC developed the challenge as a creative way to enhance and further economic development in the borough. The selection process involved evaluating each application based on specific criteria to identify projects demonstrating feasibility, positive environmental impact, long-term sustainability, and campus and community engagement. The Power Authority is funding the award as part of its Environmental Justice program that supports underserved communities located near NYPA's statewide operations.
This is a big win for BCC, and it would not have been possible without the efforts of Neal Phillip, Paramita Sen, Olaitan Femi-Falade, and Emily Marino, who were instrumental in shaping a winning vision for a more sustainable campus. Special thanks as well to Octavio Gomez and David Taylor, who showed us how our facilities could rise to the Green Action Challenge.
Eddy Bayardelle, Ph.D.
Vice President
Advancement, Communications & External Relations