Chancellor Dr. Félix Matos Rodríguez visits BCC Early Childhood Center
On October 18, BCC Early Childhood Center had the pleasure of hosting CUNY Chancellor Dr. Félix Matos Rodríguez for a tour of their school and to meet with student-parents. Jitinder Walia, Executive Director of the Early Childhood Center since 2009, along with BCC's President, Dr. Thomas A. Isekenegbe and Vice President for Student Success, Dr. Irene R. Delgado greeted the Chancellor.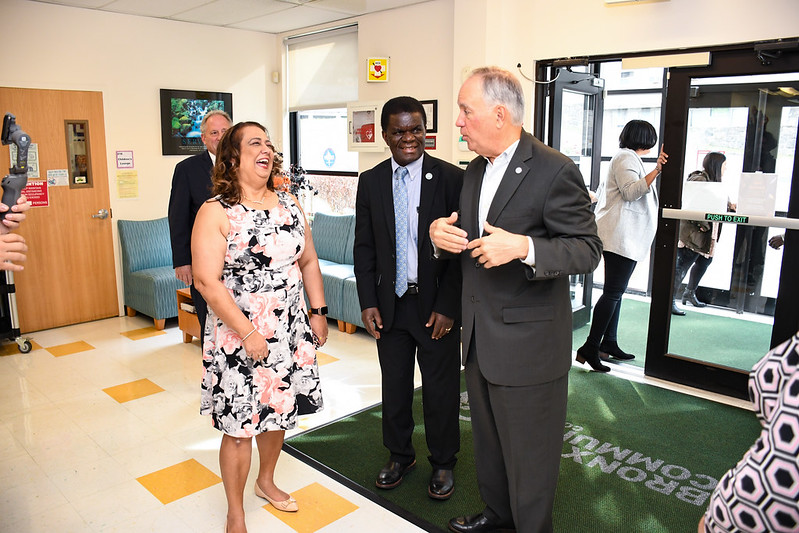 This was not Dr. Matos Rodríguez's first visit to the school, as he toured the facility once before during the height of the COVID-19 pandemic when BCC ECC was one of the few facilities that remained open for children in the CUNY system.
During the visit, the Chancellor joined the 3-year-old students, The Adventurers, for circle time and a round of "Head, Shoulders, Knees and Toes." He then moved on to the pre-k classroom, the Rising Stars, where he read the story, "What I Like About Me" by Allia Zobel-Nolan. Dr. Matos Rodríguez was genuinely delighted to be able to spend time with the children down on their level. As a token of appreciation, the children presented him with a handmade card and a group hug before he left.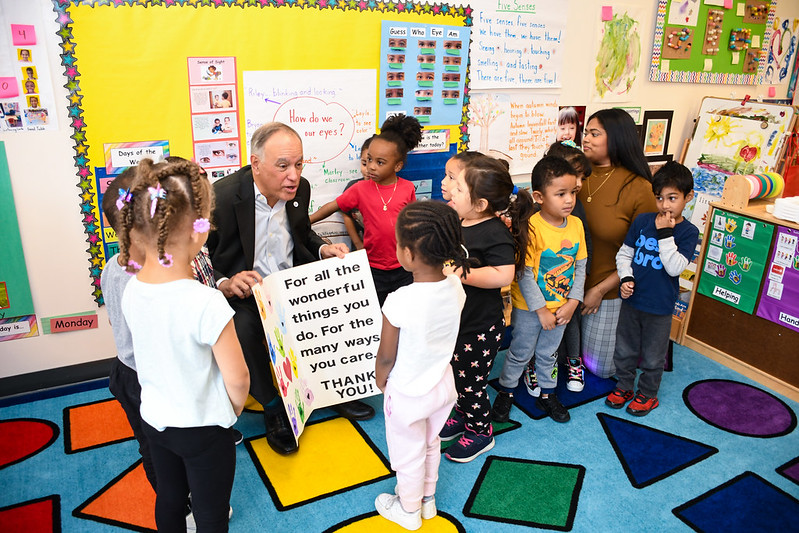 During the tour of the facility, Ms. Walia spoke to him about the various resources and extra-curricular activities provided by the school for both children and student-parents. The children enjoy weekly visits from a music teacher, yoga instructor, puppetry artist, and have been engaging in martial arts classes this semester. Student-parents enjoy access to the Family Resource Room, a place where they can relax and study just feet from their children's school. Additionally, the Center works with a Behavioral Specialist and a Family Engagement Coordinator who holds weekly parent workshops on various child-development topics, as well as one-on-one counseling for student-parents who are struggling.
What Jitinder was most excited to share about was the new Infant/Toddler room, which will open next year, providing an invaluable resource for BCC students with very young children. She stressed how critical this new addition will be for supporting retention and graduation rates at the college where many students ultimately need to drop out after having a new baby due to a lack of affordable quality childcare.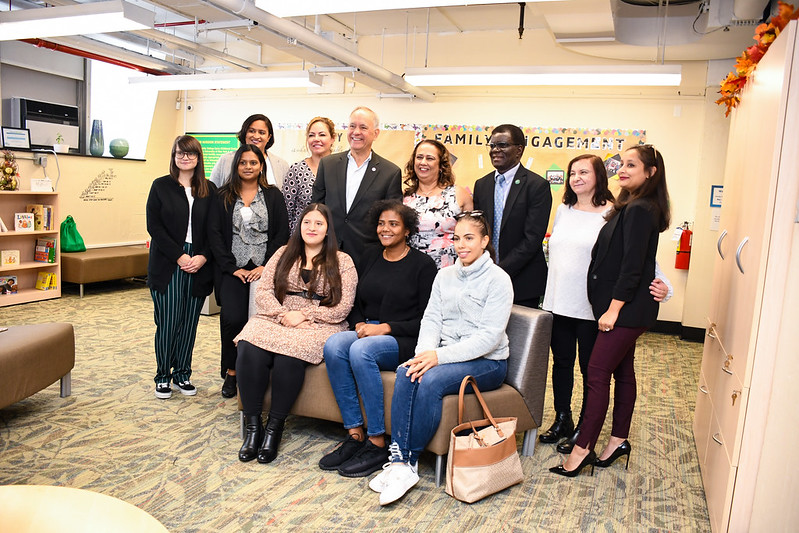 The final stop on the tour was the Family Resource Room, where the Chancellor met with BCC student-parents Rebecca Rodriguez, Yulissa Gutierrez, and Diana Peguero. The Chancellor had an engaging conversation with the students as to why they chose to attend BCC, what their major was, and what role childcare plays in their pursuit to graduation. When asked why they chose to attend BCC, Diana stated she chose BCC for its popular Nuclear Medicine program, which she has always heard remarkable things about. The student-parents also shared how having access to affordable quality childcare at BCC has been immeasurably beneficial to their success in school.
About the Early Childhood Center:
Bronx Community College (BCC) Early Childhood Center (ECC) currently supports the school readiness, social-emotional development, and well-being of children ages 2-5 and the college retention, graduation, health, and well-being of their parents at BCC's South Bronx campus. They look forward to extending that care to infants as young as 6 weeks old when the Infant/Toddler program comes to fruition next year. BCC ECC's vision is to empower success for both preschoolers and their parents through the two-generation approach.
BCC ECC is known for quality: the Center is accredited by the National Association for the Education of Young Children (NAEYC) and was highlighted as an exemplary campus early childhood center by the Middle States Commission on Higher Education (2019). Among CUNY schools, BCC has the highest proportion of poor students, non-traditional students (older than age 25), working students, and single parents – students who consistently benefit from the welcoming safe space, loving staff, extended hours, and comprehensive wrap-around support. BCC's Office of Institution Research reports (2018) that students who enroll in BCC ECC services persist in school and graduate at nearly twice the rate of BCC students overall.