CUNY Opens 14 Campuses to Serve New Yorkers as Early Voting and Election Day Polling Sites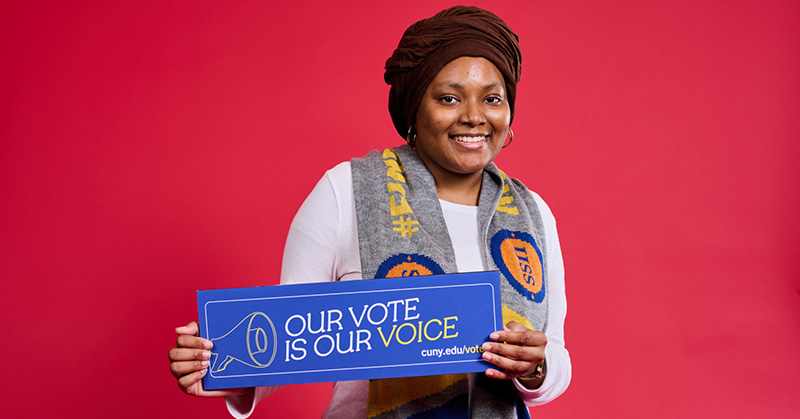 The City University of New York will again welcome New Yorkers onto campuses to exercise their right to vote in the city's general election. Ten colleges will host polling sites for early voting, from Oct. 28 through Nov. 5; and six campuses will serve as voting locations on Election Day, Nov. 7.
"We embrace CUNY's responsibility to foster civic engagement, a role that is consistent with our University's longstanding commitment to helping shape New York's future leaders," said CUNY Chancellor Félix V. Matos Rodríguez. "Our colleges are host to more than just classes for students, and we hope that New Yorkers are reminded of the many resources available to their communities on our campuses as they stop by to help decide who will lead our city in 2024."
In addition to hosting poll sites, the University has been promoting student voter registration and participation through its non-partisan CUNY Votes initiative.
Voters can find their assigned early voting or Election Day polling location by using the New York City Board of Elections Find My Poll Site lookup tool.
These ten CUNY campuses are serving as early voting polling sites from Oct. 28 to Nov. 5:
Manhattan:
Borough of Manhattan Community College (Fiterman Hall, 245 Greenwich St.)
The City College of New York (North Academic Center, 1540 Amsterdam Ave.)
Hunter College (Brookdale Campus, 425 E. 25th St.)
John Jay College of Criminal Justice (Anya and Andrew Shiva Gallery, 860 11th Ave.)
Brooklyn:
Brooklyn College (West Quad, 2946 Bedford Ave.)
New York City College of Technology (Academic Complex, 285 Jay St.)
Queens:
LaGuardia Community College (31-10 Thomson Ave.)
Queens College (Student Union, 65-30 Kissena Blvd.)
Queensborough Community College (222-05 56th Ave.)
York College (Academic Core Building, 94-20 Guy R. Brewer Blvd.)
These are the times that sites will be open for early voting:
Saturday, Oct. 28 to Monday, Oct. 31: 9 a.m. to 5 p.m.
Tuesday, Oct. 31: 8 a.m. to 4 p.m.
Wednesday, Nov. 1 and Thursday, Nov. 2: 10 a.m. to 8 p.m.
Friday, Nov. 3: 8 a.m. to 4 p.m.
Saturday, Nov. 4 and Sunday, Nov. 5: 9 a.m. to 5 p.m.
These six CUNY sites will serve as polling sites on Election Day, Nov. 7, from 6 a.m. to 9 p.m.:
Manhattan:
Baruch College (Vertical Campus, 55 Lexington Ave.)
CUNY Graduate Center (365 Fifth Ave.)
Hunter College (West Building, 128 E. 68th St.)
The Bronx:
Hostos Community College (Building D, 120 E. 149th St.)
Brooklyn:
Brooklyn College (Roosevelt Hall, 2900 Bedford Ave.)
Medgar Evers College (Carroll Building, 1150 Carroll St.)
The City University of New York is the nation's largest urban public university, a transformative engine of social mobility that is a critical component of the lifeblood of New York City. Founded in 1847 as the nation's first free public institution of higher education, CUNY today has seven community colleges, 11 senior colleges and seven graduate or professional institutions spread across New York City's five boroughs, serving more than 225,000 undergraduate and graduate students and awarding 50,000 degrees each year. CUNY's mix of quality and affordability propels almost six times as many low-income students into the middle class and beyond as all the Ivy League colleges combined. More than 80 percent of the University's graduates stay in New York, contributing to all aspects of the city's economic, civic and cultural life and diversifying the city's workforce in every sector. CUNY's graduates and faculty have received many prestigious honors, including 13 Nobel Prizes and 26 MacArthur "Genius" Grants. The University's historic mission continues to this day: provide a first-rate public education to all students, regardless of means or background. To learn more about CUNY, visit https://www.cuny.edu.
###