Encore Performance Of Annual Film And Video Festival Scheduled For October 26
Open to the Bronx Community

 




BCC Hall of Fame Playhouse

 




Admission is Free!
The Media and Digital Film Production (MEDP) program will present its encore performance of the Bronx Community College 29th Annual Film and Video Festival on October 26, 2023, from 12-2 pm at the Roscoe Brown Student Center Hall of Fame Playhouse. The Festival premiered last June at the state-of-the-art Directors Guild of America Theater in Manhattan, where many legendary motion pictures made their big screen bows and was attended by major film industry figures from throughout New York and elsewhere.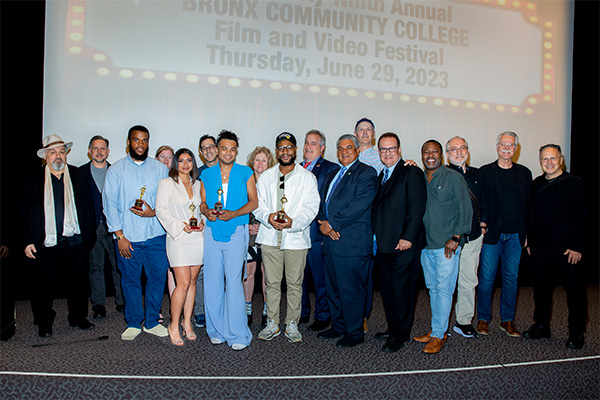 This celebration of the creativity and diversity of the Bronx features ten five-minute films directed by graduating BCC students. The Manhattan screenings were followed by an awards ceremony, with directors, writers and other artists from the world of movies and television serving as judges and handing out lucrative prizes of money, equipment and internships. Winners from previous festivals have gone on to careers in New York City's thriving film and video industry. 
"The aspiring artists in BCC's film and TV program are taught every step in the process of moviemaking, from the first draft of the screenplay to the final cut of the film," says MEDP Director Jeffrey Wisotsky. "This festival showcases the skills they have developed and the unique visions they have to share with us all." 
More than a dozen different awards and prizes were presented in such categories as editing, screenwriting and outstanding women director. The highpoint of the night was the Eastman Kodak awards category for best direction. First place honors went to Robin De'voir for UN-SURE, a psychological study of a woman struggling to hold herself together in a life burdened by responsibilities. The second-place prize was won by Joel Garcia, whose Dance with Youwas a powerful exploration of personal loss. Film noir met the supernatural in Joshua Quinlon's third-place film Midnight, while Spare Change, a depiction of homelessness and helplessness, earned fourth place for director Kimberly Vega. 
Many of the presenters inspired the students with descriptions of their own careers — such as Dan Fried, who rose from a studio mailroom to a producer's office and told the Festival audience, "If you are an executive in film or television in Los Angeles, you are dying to meet the students at Bronx Community  College, who are making films on the subway, telling amazing personal stories on film that are honest." 
The evening ended appropriately with catering from the Bronx's culinary paradise of Arthur Avenue. 
Plans are already in the works for the 30th Annual Bronx Community College Film & Video Festival to be held this June, 2024.  Admission is free!  For further information contact:  jeffrey.wisotsky@bcc.cuny.edu