Fall 2022 Faculty & Staff Convocation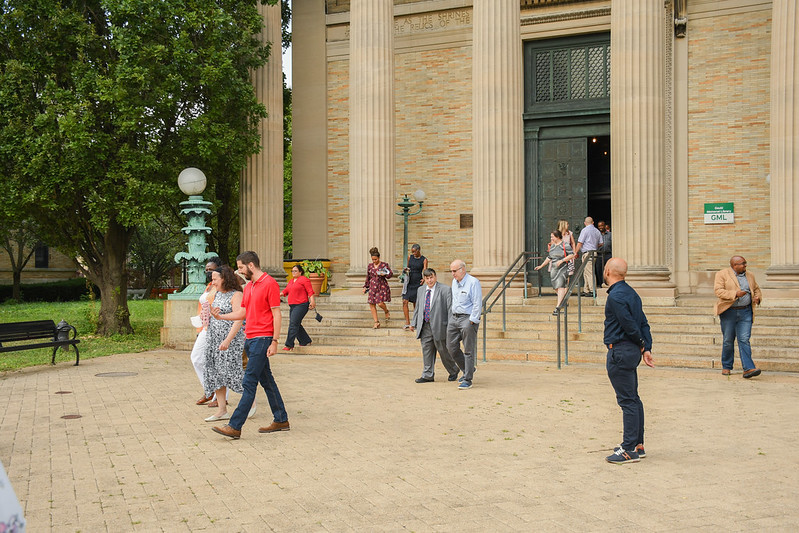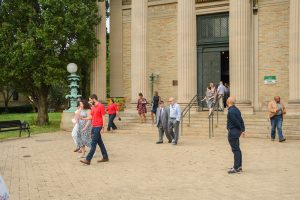 Bronx Community College held its Fall 2022 Faculty and Staff Convocation on Friday, August 26 in the Gould Memorial Library Auditorium. The Convocation was the first time in over two years that many of the participants were seeing their colleagues in person. This event was an opportunity for the President to share his vision for the new academic year while highlighting the many achievements of key faculty and staff over the last year.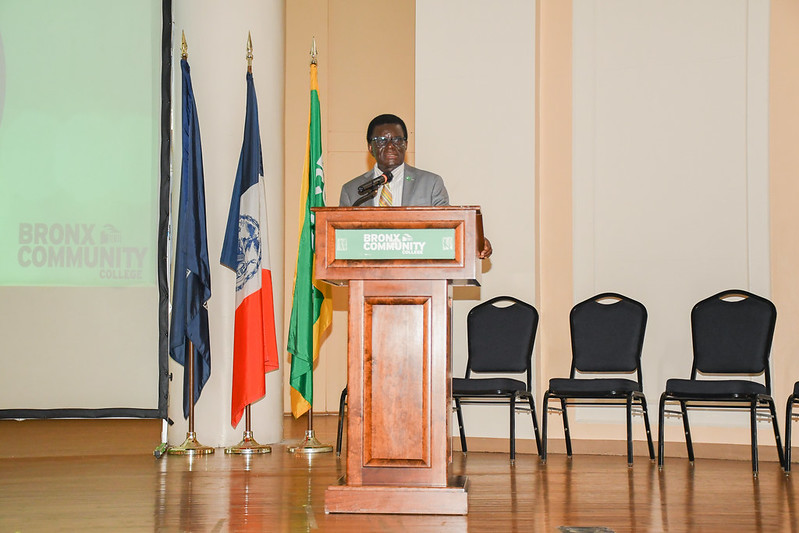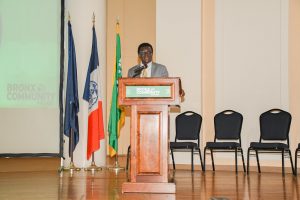 President Thomas A. Isekenegbe opened the meeting by welcoming faculty and staff including those joining BCC for the first time. He said: "It is so great to see everyone. I want to say thank you for your contributions to BCC. We are kicking off the 2022-2023 academic year. I was at the gate on August 25 welcoming the students to the first day of classes and the influx of students reminded me of pre-pandemic enrollment."
President Isekenegbe also noted: "The essence of our institution is our students. They are looking to each of us for advice and counsel. What has been missing since the pandemic is, engagement. We need to find ways to re-engage with our students and with each other. This is our challenge. The last two years produced a lot of anxiety and worries.   We need to reverse this trend. I know that things will get better now. The way we teach, the way we interact with our students is crucial and vital to the future of BCC."
The BCC Senate Chair Dr. Roni Ben-Nun addressed the Convocation saying: "I usually don't give emotional speeches, but at this time it is so nice to see all of you. I don't know about you, but I am really sick of Zoom.  However, the lessons BCC learned by going online will serve us well for the years to come."
He noted that the Convocation was a very special moment in his BCC story. He came to the campus 25 years ago as a student, and this Fall semester his daughter enrolled at BCC. By entrusting his daughter to BCC he knows she will get a good education and the College will do the best for her as it does for every student.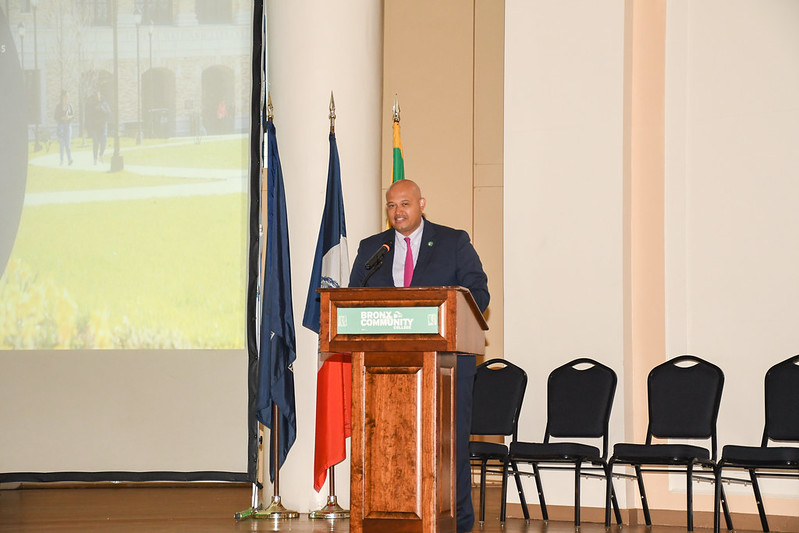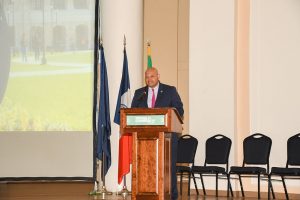 Provost Dr. Lester Edardo Sandres Rápalo was the next to speak. He reported that four BCC students received the prestigious Jack Kent Cooke scholarships that enabled them to receive $55,000 a year in tuition, living expenses, books and required fees to complete their Bachelor's degree.  Another four students received Kaplan Foundation grants that provide tutoring, academic advisement service, leadership training and stipends for living expenses. The Provost noted: "Your mentorship, your relationships with students and your love and passion for learning makes all of this possible."
Dr. Irene R. Delgado, VP for Student Success, talked about the newly created CARES (Counseling and Resources for Emergency Support), combining the student services team with the Office of Personal Counseling. Many students visiting the Counseling Center were experiencing problems with eviction, food insecurity, domestic violence, and legal issues. CARES was established in 2019 to help them access all the resources in one location.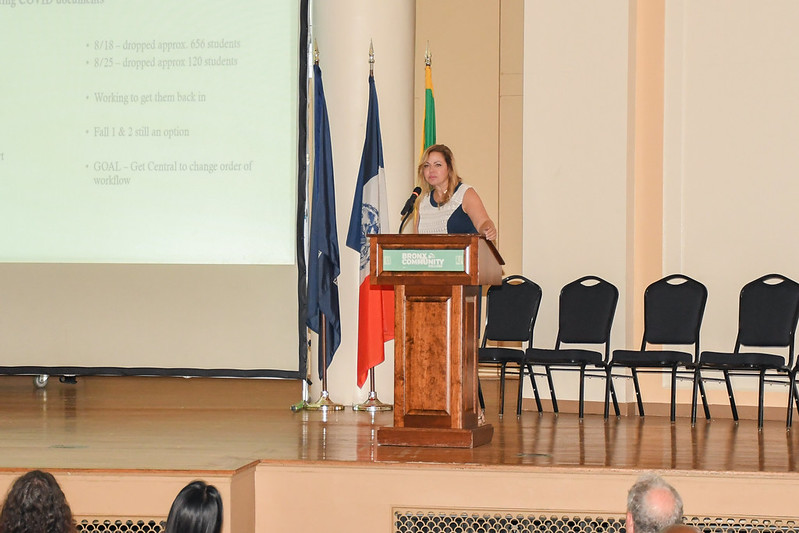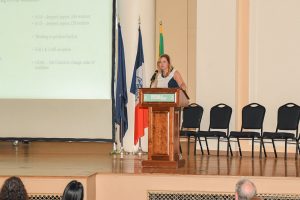 In addition, VP Delgado was pleased to announce the promotion of Kelly Peloquin as the new Student Athletics Director, one of only four female athletics directors in the CUNY system and the only one among the community colleges. Warren Thompson was announced as the new basketball coach and Howard Chepas, a star player in England with years of coaching experience, is the new soccer coach. VP Delgado is also in the process of hiring a full-time nurse for the campus.
A recap of the important fundraising efforts at the College was provided by Dr. Eddy Bayardelle, VP for Advancement, Communications and External Relations. The annual gala raised $375,000 for scholarships; Run the Bronx contributed $40,000 and Giving Tuesday was responsible for an additional $106,000.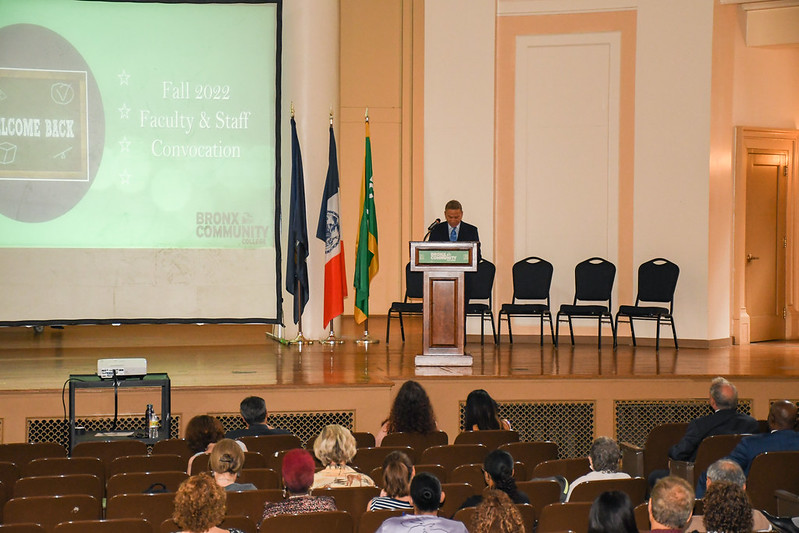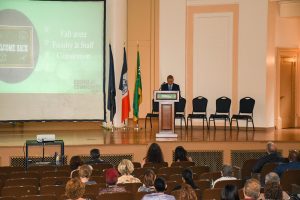 In total, BCC raised $12.5 million including important grants from the Blackstone Charitable Foundation for its Blackstone LaunchPad program to create new student entrepreneurs at BCC with a grant of $500,000.
Dr. Bayardelle said: "Our goals for this year are to fundraise to help our students including paid internships; investing in marketing and advertising; engaging faculty advisors and career development staff to help create career paths for students and working with elected officials to secure capital funding, among others."
Kay Ellis, VP for Administration and Finance, noted that a Federal stimulus grant helped the College during uncertain times last year. The total budget for the College was $77 million and because of this grant, the College finished the year with a surplus. She welcomed new members of her staff to the campus including Marissa Danzy, the new Superintendent overseeing BCC's  45 acres and 34 buildings. Ms. Danzy is the first female superintendent for CUNY. Stephen Cacace also joined as Bursar and Carolyn Strange joined the Human Resource team.
Finally, Dr. Bernard Gantt, VP of Enrollment Management, spoke about the challenges faced by the College. He said "I want to thank the executive team of the President and the Cabinet for entrusting me with this critical effort over the last five months." He asked people that were involved with the enrollment effort to stand up and 80% of the audience stood up and were greeted with applause. Dr. Gantt emphasized that everyone at BCC must contribute to the enrollment effort.
Dr. Gantt was proud to announce that the College is #1 in students transferring to four-year institutions within the CUNY system.
He proposed new initiatives like a College APP for easier enrollment, a re-evaluation of advisory efforts; a more accessible and flexible admission's office, including hours at night and weekends; a review of the financial aid strategy; restoration of the International Student Office and customer service and customer care training for admissions staff.
The meeting ended with a lunch where President Isekenegbe rolled up his sleeves and helped serve the faculty and staff.