"FUTURE NOW" STUDENTS GRADUATE TODAY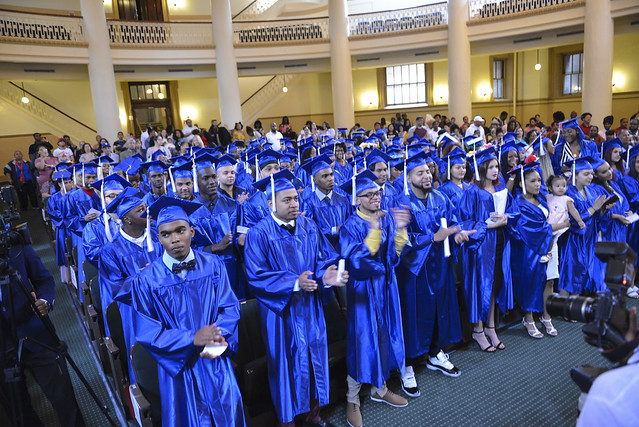 On the afternoon of Friday, June 14, a sea of royal blue caps and gowns and the syncopated din of drumming filled the auditorium of Gould Memorial Library as the graduation ceremonies for Future Now returned to the campus of Bronx Community College. The acclaimed program offers free High School Equivalency (HSE) exam training and counseling, along with college preparation for 17-to-24-year-olds whose education was derailed after they dropped out of high school due to arrests, school suspensions or difficult family situations.
But thoughts of the difficulties of the past were replaced by visions of what lies ahead for the 125 students who were there to claim their diplomas and certificates and destinies. They were part of a class of 240 who graduated this year, at least 100 of whom will be attending Bronx Community College in the fall.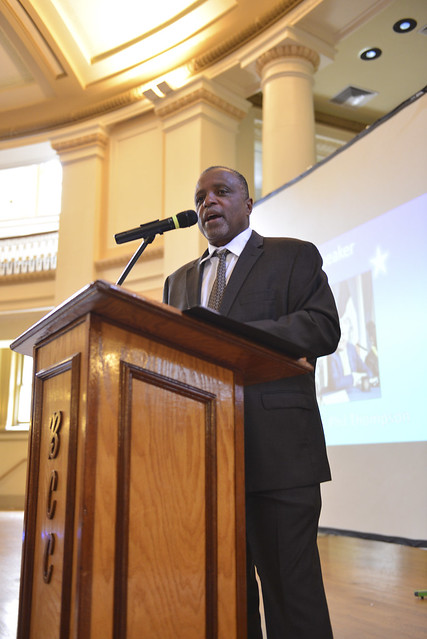 "For all of the families and friends who are here to support the graduates, on behalf of them I say 'Thank you, thank you, thank you,'" said BCC President Thomas A. Isekenegbe. "As I was coming into the building, seeing all the family members waiting outside really touched me."
Future Now Director Elizabeth Payamps and all of the staff who had shared the journey of the graduates offered their congratulations as well.
A highlight of the afternoon was an inspiring address by the Keynote Speaker, New York City Deputy Mayor Phil Thompson, who told his rapt listeners of his family's three generations of struggle against segregation and prejudice and his own ultimate triumph as an Ivy League academic and an influential official in New York City. "If you persevere," he promised the graduates, "If you don't let anybody tell you what you can't do, but focus on what you want to do, and you work at it and fight for it, you can get there — and that's how change happens."
The Deputy Mayor was followed by the dance troupe "Feraba," student performances and the march up to the stage, where every graduate had a moment of glory taking the document he or she had worked for with such commitment as their loved ones cheered and the occasional baby wailed.
Since Future Now began in 1998, over 5,000 students have attained their HSE degree and more than 3,000 have gone on to enroll either in BCC or another community or four-year college. And now their ranks are joined by the Class of 2019.