GET PSYCH'D ALUMNAE GET GRADUATE DEGREES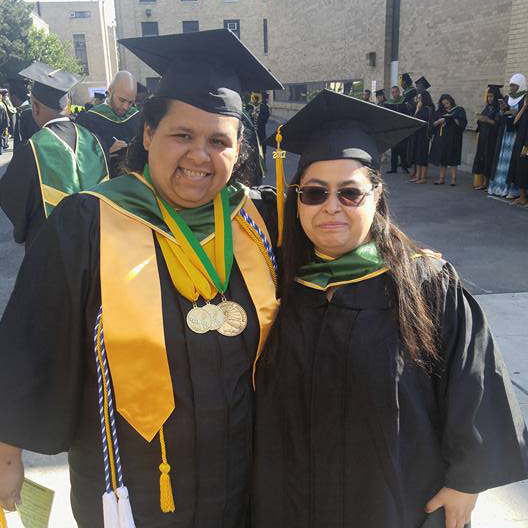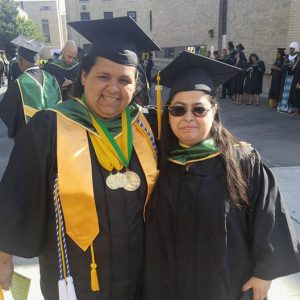 Six years ago, BCC's Office of Personal Counseling launched Get PSyCh'D, a Peer Support and Career Development program for Bronx Community College students pursuing degrees and careers in psychology, social work, human services, counseling and other mental health fields. This past June, Get PSyCh'D achieved a major landmark — Jennifer Guzman and Jessika Roldan, two BCC alumna (Class of '17) who had been a part of the program, graduated from Yeshiva University with master's degrees in social work.
"When we started Get PSyCh'D, our goal was to get students into professional positions in the mental health field, for which you have to have at least a master's degree," says Esther Levy, a licensed clinical social worker in the Office of Personal Counseling. So they are the first students to complete a Master's having been through our program."
"I became interested in Get PSyCh'D because it was a great way to get to know some of my college community," recalls Jennifer. "I thought it would broaden my horizons to meet people who like me were interested in helping others."
Jennifer, a Human Services major, was already committed to service. Before she came to BCC, she and her family were running an organization called "Stop the Violence," a program for at-risk youth that grew out of her experience as a mother of nine.
"I adopted six children into my home. Being there for my children made me want to be there for other children who might not be so lucky."
Through Get PSyCh'D, she met fellow Bronco Jessika Roldan. The two began a personal and professional relationship that lasts to this day.
"Our joint project was understanding how abuse and neglect effects a child's development," recalls Jennifer. "Working that project, we got really close because we were able to depend on each other and advocate for each other. We took a lot of our classes together. We graduated BCC together. And then we transferred to Lehman, graduated in social work, moved on to Yeshiva and earned our MSWs.
"I don't think either one of us would have gotten as far as we did without having each other starting with Get PSyCh'D.
"My goal is to open a community youth center. I want to have services like counseling and legal advice, employment and educational advice, possibly a clothing store and a soup kitchen. Jessika is interested in counseling at-risk youth and being an adviser at the center."
Like Jennifer, Guatemala-born Jessika Roldan was a BCC Human Services major with an interest in counseling. "At Get PSyCh'd, I learned new skills that I hadn't even considered, such as active listening when having a conversation, deciding how to approach someone who is not so willing to get help right away. I wanted to help people but the techniques weren't there for me. I got those from Get PSyCh'D."
Presently, Jessika is a psychological coordinator at a senior center in Harlem while Jennifer assists families with children at New York Foundling Functional Family Therapy Foster Care. That dream of a youth center is perhaps two years away, but Jennifer is already seeking funding. Jessika thinks they will make a great team. "I am more of a 'Let me take you by the hand and let me help you along with this.' Jennifer is more 'I can plan all this and make it work.'"
Adds Jennifer: "Get PSyCh'd has affected me since I left BCC. It was a great foundation to build on."