Got Orange Soda?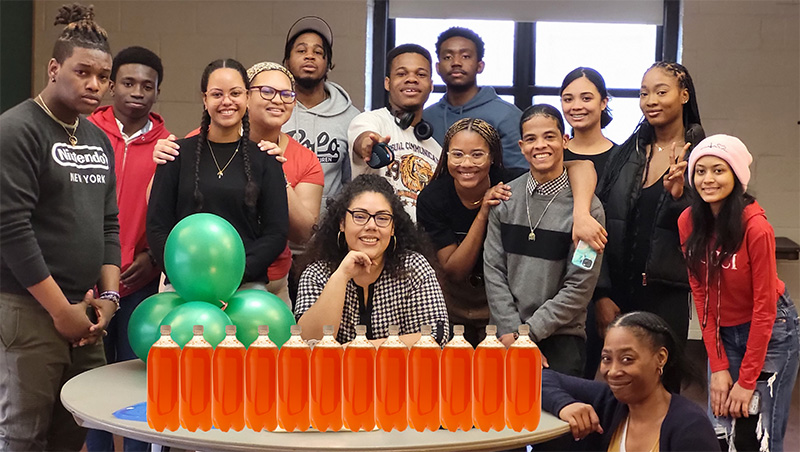 Having always wanted to work in Student Life, Tiffany Dubon-Yard says she truly is living the dream. Ten years ago, she knew she wanted to head back home to the Bronx, and she has been here at BCC ever since. Learn about how she is engaging students over orange soda, comedy and a whole lot more.  
After leaving the Bronx to attend college at SUNY Purchase followed by her master's at Binghamton, Associate Director of the Office of Student Life Tiffany J. Dubon-Yard knew she wanted to head home to the Bronx. And she has been here at BCC ever since.  
Of all the hats she wears at BCC, Dubon-Yard, who earned the President's Award for Excellence in Service last spring, 2023, says she most enjoys interacting with students. She serves as faculty advisor to the SGA (Student Government Association) and Phi Theta Kappa, the honor society. The advising she does resembles her role when she first came to BCC as an academic advisor. She also is the vice chair of the Association of Latino Faculty & Staff; the co-chair of the Social Justice Network and an advisory board member for Womxn Up!.  
Having always wanted to work in Student Life, Dubon-Yard says she truly is living the dream. "Growing up as a teen without much guidance beyond the advice of my sister, I recognize the need for our students to have people in their lives beyond their families who can give them advice on careers and life in general," she said. "My parents migrated from Honduras. I didn't want to go to college because I wanted to start working right away to support my family. Fortunately, I had mentors in my life along the way who helped me see the importance of furthering my education." 
The major themes Dubon-Yard is focused on this year with Student Life are inclusion and belonging and social justice. Building community through events and clubs and making the campus come alive are goals she is working on alongside Associate Dean of Student Development Manny Lopez and others. She constantly reassesses and thinks outside the box as she continues to grow Student Life's network and expand the department's impact on campus.  
Among the upcoming events Dubon-Yard is looking forward to:  
10/24/23 12-2PM BC 211 Antisemitism and Representation: Countering Stereotypes

 

11/1/23 12-2PM BC 211 Muslim Community Network Hate Crime Prevention Workshop

 

11/9/23 12-2PM CO-LL Inter-Organizational Council (IOC) Beast Games (club competition)

 

11/17/23 12-2PM NL 117 Embracing Your Brilliance & Leadership: Reflective Communication Dialogue Workshop

 
As she approaches year 10 at BCC, Dubon-Yard says time flies by, and no two days are the same. If you ask her what does remain the same, she says, "my indulgence in orange soda and comedy."   
Dubon-Yard's students frequently seek out opportunities to bring her orange soda, and she often attends comedy shows her students are performing in around NYC. This fall, she hopes to bring one of the student's comedy groups to campus.