Hilary Pitter – Scholarship Recipient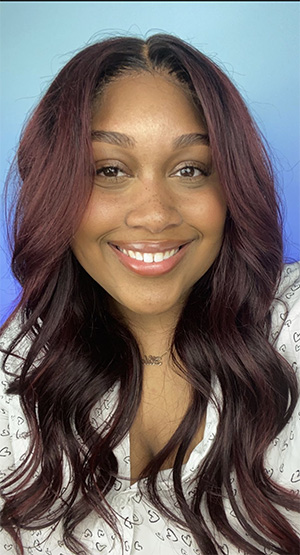 Hilary Pitter, the youngest of 13 siblings, is 28 years old. Along with one of her sisters, she was born in the United States. Her other siblings were all born in Jamaica. She is a first-generation college student who resides in The Bronx, where she lives with and cares for her 87-year-old father.
It took her 4 years to get an Associate degree in Human Services from LaGuardia Community College in 2018. She went to work at a beauty salon in Manhattan but left when COVID hit because she didn't feel safe.
Often events in our lives influence the path we take for a career. For Hilary, it was her experience as a patient at Montefiore Moses Hospital in The Bronx. She passed out at her mother's home in 2021 and discovered while she was in the hospital that she was diagnosed with a pulmonary thrombosis in her lung. Frighted and alone she was cared for by nurses and doctors, who did everything in their power to help her.
She left the hospital knowing that she wanted to be a medical professional and give others the same solace and care she received at Montefiore.
So her journey began at BCC in the Spring of 2022. Hilary has excelled with a 4.0 GPA, she is on the President's list, and is in the honor society. She credited the emotional support she received from her family for her success.
She chose BCC because of its Radiologic Technology program that she found online. Her two-year program starts in September of 2023, and she hopes to receive her degree in 2025. After she receives her degree and gets her license, she hopes to specialize in MRI Technology.
A radiologic technologist is a skilled professional who provides a specialized health care service. This rewarding profession involves the operation of sophisticated equipment in a rapidly expanding field. The Radiologic Technology Program in the Department of Nursing and Allied Health Sciences prepares students as entry-level qualified licensed and registered radiographers. Upon successful completion of the program, students are eligible for the national and state certifying examinations.
Hilary struggled to pay her tuition. Undaunted she forged ahead and researched scholarships. She decided to apply for scholarships from the United Negro College Fund (UNCF).
She went to Dr. Theresa Smalec, an Associate Professor in the Department of Communication Arts and Science, for a recommendation.
Dr. Smalec noted: "Like Hilary, I am a child of immigrants. My parents emigrated from Poland, so I identified with her story, which she wrote about in my class on Fundamentals of Interpersonal Communications. She was an excellent student with a strong work ethic. I was pleased to write her a recommendation for the UNCF scholarship program."
Hilary said: "Dr. Smalec is amazing. She gave me the confidence to share my story with my classmates. Her recommendation enabled me to receive two scholarships from the UNCF."
The first scholarship was the UNCF Associates Scholars Empowerment Program, open to Black/African American students at 2-year institutions with a 2.25 GPA. She received a need-based scholarship of $2,500 this academic year that can be renewed for an additional year.
The UNCF also awarded Hilary the Pierre and Tana Matisse Foundation scholarship of $2,792. The UNCF scholarships are highly competitive with thousands of applicants and only 50 scholarships awarded each year. For Hilary to have received two of these scholarships is a testament to her perseverance and academic achievements.
The BCC Foundation gave her a $1,000 scholarship.
With a total of $6,292 in scholarship aid, Hilary's tuition for the Radiologic Technology program will be paid in full. She will take classes both online and in person so she can continue to care for her father.
"Think about the person you ultimately want to be in life. Know that achieving this milestone will bring you closer to that goal. BCC has amazing professors that support you and want to see you win. So, go for it. You can do it!" she concluded.