How Professor Jeffrey Wisotsky's Anti-Drug PSA Got a Cameo in Universal Pictures Cocaine Bear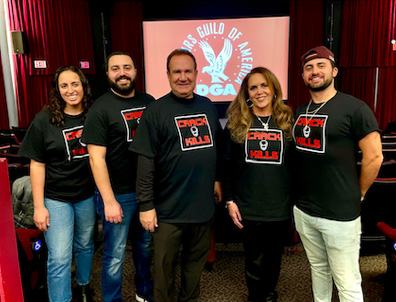 There was cause for celebration when the students in BCC's Communication Arts and Sciences Media and Digital Film Production Program (MEDP) heard that the public service announcement (PSA) created by MEDP Director Jeffrey Wisotsky 37 years ago made a cameo appearance in Cocaine Bear, the hit film released in February.
Prof. Wisotsky produced and directed Crack Kills, a PSA that was part of a 1986 anti-drug campaign of the New York City Housing Authority Narcotics Task Force. Yes, time has made these well-meaning PSAs seem a bit campy, but if they kept any kids off drugs, Prof. Wisotsky is proud to have been part of them. The iconic line uttered by actor Michael Genet — "Smoking crack is like putting a gun in your mouth and pulling the trigger" — became a part of the anti-drug vernacular. His sons Scott and Jake loved watching their dad's videos on YouTube!
https://www.youtube.com/watch?v=7dM_NGlBHDU
In 2022, film director Elizabeth Banks sent out a tweet seeking more information about Crack Kills. Universal Pictures contacted Prof. Wisotsky to have his PSA included in Cocaine Bear, which was #1 at the box office on its opening weekend.
Prof. Wisotsky won a National Kodak Teenage Movie Award when he was 16 years old.  "I always knew I wanted to be a filmmaker. Even when I was a member of the film club at Evander Childs High School in The Bronx, I was a visual storyteller having my films screened at the Bronx House, libraries and community centers throughout the city. "There's a lesson in all that, which I now teach to the next generation of filmmakers as director of the MEDP Program-in this business, you never know where your talent and tenacity will take you, even decades later."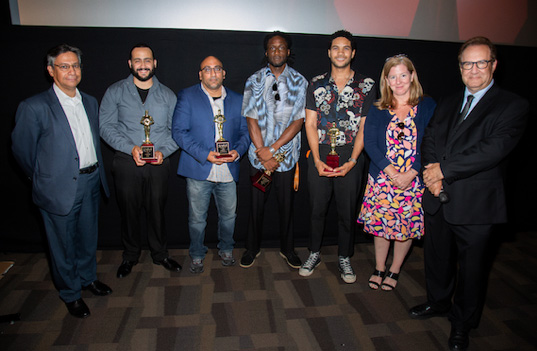 Prof. Wisotsky has taken the camera into housing projects, inner-city schools, the streets of New York City – anywhere to get the job done. He has emerged with a body of work, shown at film festivals and nationwide television, that the late Academy Award-winning director Milos Forman describes as having "art, wit and great heart."
His work has included a New York EMMY award nominee for Jerry Orbach's-Smooth Operator, as well as his World War II documentary, The Blue Devils Come Home. Wisotsky's educational children's series On the Edge received a CABLEACE Award. His dramatic film, HOUSING PROJECT U.S.A., was produced with a Warner Brothers Film Grant. A native New Yorker, he holds a BFA degree from City College of New York's David V. Picker Film Institute as well as an MFA degree from Columbia University.
Prof. Wisotsky's journey at BCC began in 1993 when he was the senior producer/director for Crosswalks, the NYC Cable TV Network that was also based at the College. When the Network wanted to hire BCC students as TV studio crew members, he was asked by then Chair Dr. Joanne Graham to teach at the College so he would get to know BCC students and have a better understanding of the skill sets students needed for TV production. Prof. Wisotsky taught the CAS Introduction to Film course for many years, becoming director of the MEDP program in 1996.
Prof. Wisotsky also started the BCC Film & Video Festival, which is now in its 29th year. The first BCC Film Festival was held at Café 44 in NYC and the student films were projected on a white sheet in the restaurant's dining room. In June 2023, The Directors Guild of America will host the festival in its state-of-the-art theater on West 57th Street in Manhattan. "It's the best night of the year," said Prof. Jeffrey Wisotsky, "The students get networking opportunities, jobs, money — and most important, they see their work come to fruition. Upon graduation, Media and Digital Film Production students are ready to enter the industry or transfer to a four-year program. Their stories are powerful proof of the life-changing impact of an MEDP degree from Bronx Community College."
"For our students, the day doesn't end at 5 PM. We go to events in the evenings and weekends sponsored by film and TV professional organizations, Film and TV Unions and career workshops in NYC where students get to participate in a one-on-one dialogue with working professionals in every trade in the motion picture and television industries. The East Coast has also become a mecca for film and TV production. We also participate in the Warner/Discovery Access To Action Program that provides students with production assistant jobs to HBO productions. At Bronx Community College's Media and Digital Film Production AS degree program, our students study the ancient art of storytelling and the modern arts of cinema and television — and acquire the skills and experience to succeed in both."  said Prof. Wisotsky.
Prof. Wisotsky's next project is the screenplay of July 4TH 1976, an original comedy-drama about the last days of "the Bronx Big Shots," a group of Italian, Irish and Jewish adolescents transitioning to adulthood on eve of the nation's bicentennial.
"The late director John Singleton could have been speaking for me when he said, "It's cool for me because I'm a director, but I'm also a teacher, I'm a lover of cinema and I love working with people who are hungry and have energy to really do better work."
BCC congratulates Professor Wisotsky on all of his achievements.