Kelly Peloquin promoted to the position of Director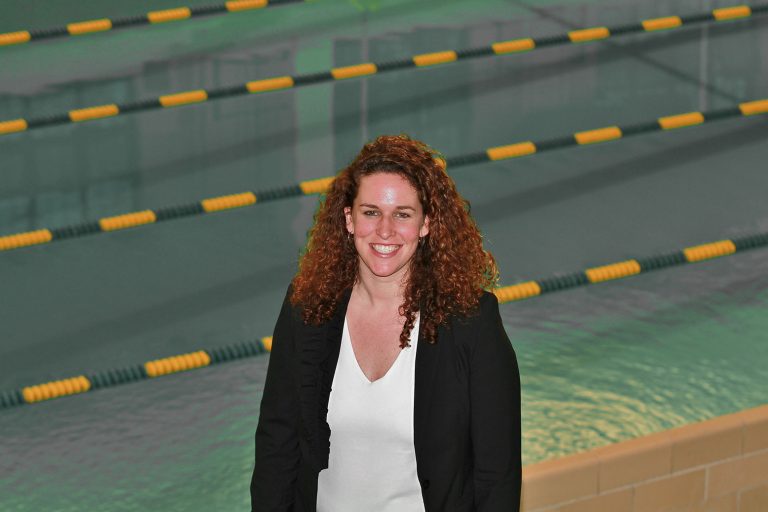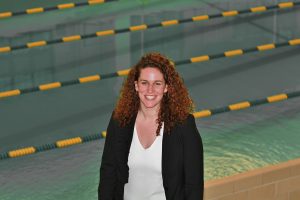 Kelly Peloquin, Associate Director of Athletics at BCC since 2018, has been promoted to the position of Director as of August 22nd. She is the second female athletic director at BCC and one of four in the entire CUNY system.
A Baltimore native, she attended the University of Miami on an athletics scholarship for swimming and received a degree in sports administration.
She came to BCC from Asphalt Green Unified Aquatics where she was a team manager and coach. Her background in coaching is very strong and will help her in her new position.
Irene R. Delgado, Ph.D., VP for Student Success at BCC, said: "Kelly Peloquin did exemplary work as the assistant director of our sports program. We are pleased to announce her promotion to director. Her vision to expand our athletic program along with her strong background in sports administration will enhance our goal of supporting our student athletes."
Her biggest achievement when she joined BCC was the re-opening of the swimming pool in September 2019 at the College, which had been closed for 15 years.
Kelly has three primary goals in her new position: increasing alumni involvement through fundraising; starting a varsity track and field and swim team; and creating professional development tools for the current staff as well as job opportunities for student athletes that would include internships in sports management. She plans to hire students as lifeguards at the pool, assisting at soccer games, working event logistics, and helping with the daily administration of the program.
She said: "I want to extend the community of athletes to the greater student body recruiting more students to the program. Our athletes are brand ambassadors for BCC. Our program is the reason why many students enroll at BCC. We have an excellent graduation rate for our athletes of more than 75%. They have received academic awards from BCC and CUNY. Our students carry on that Broncos pride when they graduate."
BCC athletes attend student orientation and recruit freshmen to join the program. Kelly also wants to do more outside of the BCC campus to let potential students know about the success of the athletics program.
The BCC baseball team won the championship in 2019 and in 2021 they made it to the finals. The basketball team has excelled in competition. The College has had a strong and historic program in athletics for decades.
Kelly is particularly pleased that BCC has hired two outstanding soccer coaches. New head coach Howard Cephas was a player in his native Jamaica and went on to be the head coach at Ferndale Soccer and Santa Monica United. Caio Mancanares, the new assistant coach, played in Brazil where he grew up, and has six years of coaching experience.. "Our students are passionate about soccer and these two new coaches will strengthen our team," Kelly said.
Please join us in congratulating Kelly on her new position. Go Broncos!