Lawrences-Father and Son at BCC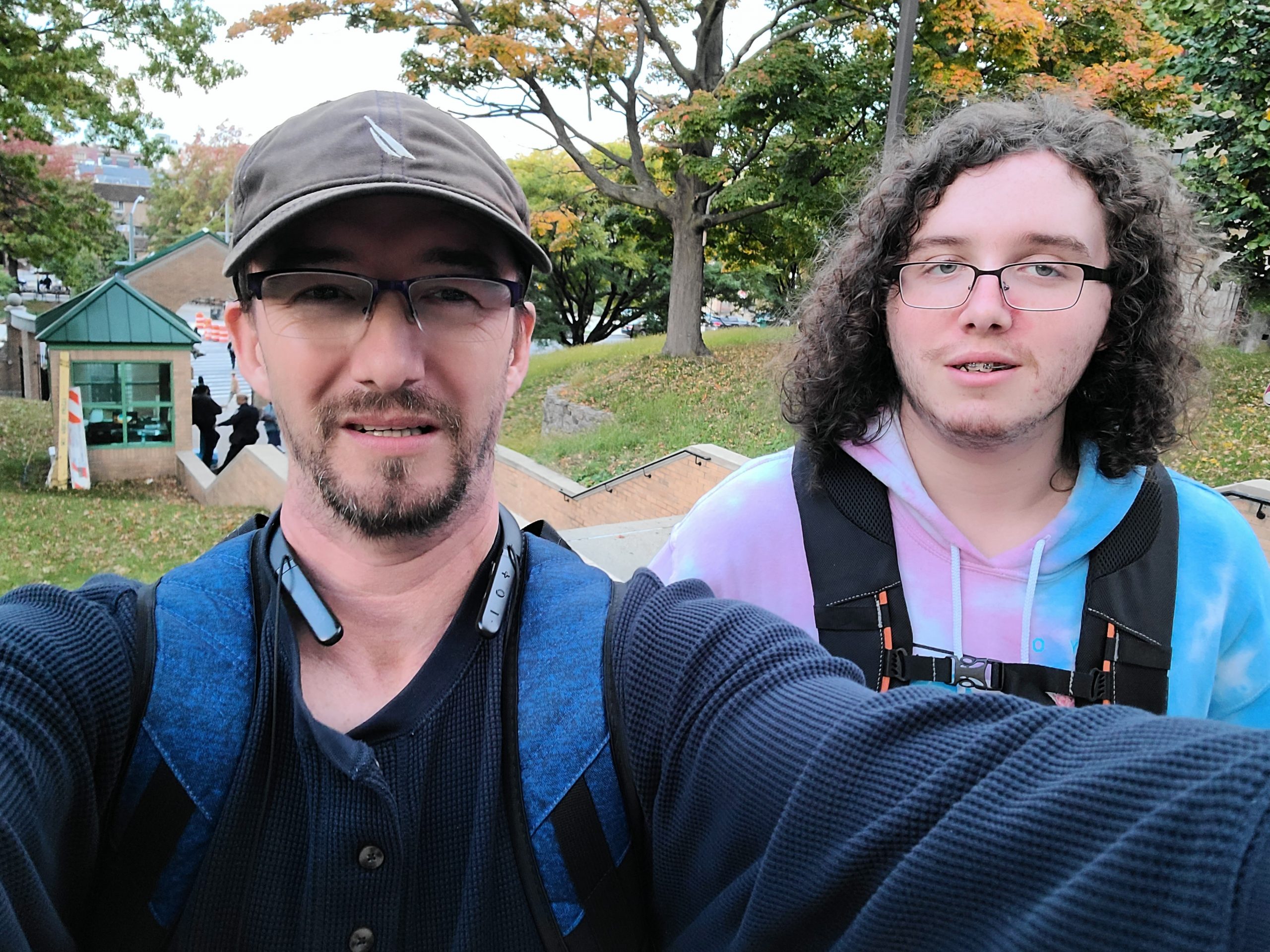 What if your classmate, best friend and mentor at BCC was also your dad?
That's the case for Sirius Lawrence, 18, a freshman at BCC who joined his dad Michael, 43, to get a degree at BCC.
Michael, who is originally from Houston is in his second semester studying computer science. Sirius moved here from Indiana and wants to major in biology. Michael's wife is a native New Yorker and knew about BCC. "I enjoy BCC and wanted my son to have the same opportunities that I have," said Michael.
Despite their 24-year age difference, they get on well and share some of the same classes including math and sociology. This helps with homework and preparing for exams. "Two heads are better than one," said Michael. They both plan to get an associate degree.
They live together in Castle Hill on the outskirts of The Bronx. Whenever they have classes, they travel together for the hour-and-a-half commute. This provides an opportunity to share notes about their classes and prepare for the day.
They agree that the best thing about BCC is the people and find the College to be a welcoming, friendly place. "I feel I can go up to anyone and talk to them without being judged, "noted Sirius. Their classmates are amazed when they find out the Lawrences are father and son. "They thought we were brothers," said Michael. "Some people don't have a good relationship with their fathers, so we stand out," said Sirius. They agree that it is easier to meet people when you have someone at your side who knows you well. It gives you the confidence to try new things.
While Sirius is just beginning his college career, Michael attended DeVry University, an online school.
"I have always been a tech guy and ultimately want to be a penetration tester. This is someone that is paid to hack into a corporation's network site to find where it is vulnerable. My credentials in computer science degree will enable me to do this as well as opening up other doors to a good, well-paying career," said Michael.
The father and son also want to start a club at BCC for music production. As soon as Sirius has his GPA from this semester, they will start the application process. "Older students will gravitate towards me and my son will attract younger students, so it is a win-win situation," said Michael.
While they don't know when they will graduate, they are enjoying their time together at BCC. "I taught my son to be open and talk to people. We have both benefitted from this experience and thank BCC for providing us with a welcoming environment where we can thrive," said Michael.