Meet BCC Groundskeeper Robert Parsons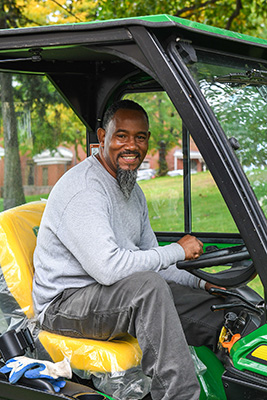 On any given day, one can expect to see Robert Parsons on his John Deere tractor tending to the landscaping and grounds of BCC's campus. For 35 years, including four presidential terms, Robert has taken as much pride in ensuring that BCC's grass is cut and litter-free as he would if it were his own backyard. 
"I want students to be proud of this campus," says Parsons, known to many as the man with the thin goatee.  He says the biggest compliment he can get is when someone says the lawn looks good, and he can say thank you.
Parsons began at BCC as a cafeteria worker during the President Roscoe C. Brown era and then moved on to become a custodian. He recalls that the quad he is standing in during this conversation did not exist and that it took five or six interviews before he was hired. "I had to work hard to get this job," he said. "Even though I've already got the job, I put my heart and soul into it as if I am trying to get it. Whether it was during COVID or on the hottest or coldest of days, I just want to get the job done." His drive and push to meticulously care for the grounds never get old.
Born and raised in Harlem, Robert and his wife Katherine, whom he met while also working at BCC (she is currently a librarian), have four children and four grandchildren. They enjoy traveling, going out to eat and most of all, spending time with family.
"How can you be here all these years and not care about this campus?" Robert remarks. While three decades have brought changes to facilities, buildings and the community, one thing remains constant: "There will always be grass growing," he says. "And as long as I can be here to cut it, I will." 
  
Robert Parsons is part of PPS (Physical Plant Services Department), which oversees the campus service experience for students, faculty, staff and visitors that promotes a clean, optimized physical environment. The Department is responsible for the operation and maintenance of all campus buildings, providing custodial, landscaping, carpentry, painting, trash/recycling, HVAC, grounds keeping, plumbing and locksmith services, among other campus renovation projects.