The Journey of a Mother and Son at Bronx Community College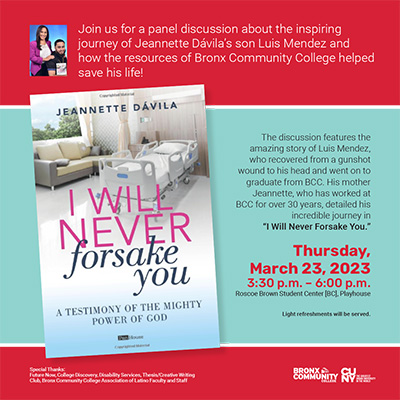 Jeannette Dávila has worked for Bronx Community College (BCC) since 1991. Her first position was as a college assistant to the Dean of Students. She currently serves as the Program Administrative Assistant for the College Discovery Program. In this capacity, she contributes to students' success by helping them find the best resources and resolve any obstacles they may face in getting a degree.
She is also a charter member of the Association for Latino Faculty and Staff. She is the organization's secretary.
Jeannette's oldest son, a BCC alumnus, has a remarkable story. At the age of 22, in 2016, her son Luis Mendez was shot in the head. He was shot with intent of murder by someone who betrayed him. He was not expected to live.
Luis encountered many obstacles in his life. He dropped out of high school in 2012. Jeannette immediately enrolled him in BCC's Future Now program where he completed his General Equivalency Diploma (GED) in 2012. He then enrolled at BCC in 2012 but had to drop out when he had a child. In need of money to support his newly born son, Luis looked to the streets to find ways of make money.
Jeannette never gave up on her son and credits BCC with helping him to succeed. She was able to draw on her experience and knowledge of BCC's numerous service programs to help her son.
After years of therapy and months in physical therapy facilities, Luis recovered and re-enrolled at BCC in 2019. The Future Now Program at BCC was able to provide him with a grant of $2,000 to pay off the school debt he had from when he first enrolled. Disability Services made it easier for him to navigate the campus. Advisors helped him plan his course of study. He graduated with an associate degree in Liberal Arts and Human Services in 2022. Luis is now enrolled part-time at Lehman College where he hopes to get a degree in Communications and Public Speaking.
He recounted his story in Thesis, The Literary Magazine of BCC in an essay entitled, "The Surviving Warrior." In his essay, he wrote about his mother. She said to him, "You are my first son. You have survived something that many thought would be impossible. You are my miracle and everywhere you go hold your head up high. People don't know your story, but I do. You are strong and God is with you in whatever you do."
Luis' inspirational journey led to Jeannette establishing "The Surviving Warrior Award" through the Association for Latino Faculty and Staff at BCC. She created this $250 award as an inspiration for her son's hard work and dedication to earning his degrees despite his disabilities. The award is given annually to a student who has experienced gun violence or have suffered a traumatic brain injury. She wants BCC students to know that their dreams are achievable no matter their obstacles.