NEW YORK LEAGUE OF PUERTO RICAN WOMEN PRESENTS EDUCATION AWARD TO ASSOCIATE DIRECTOR OF ASAP PROGRAM JESSICA CABRERA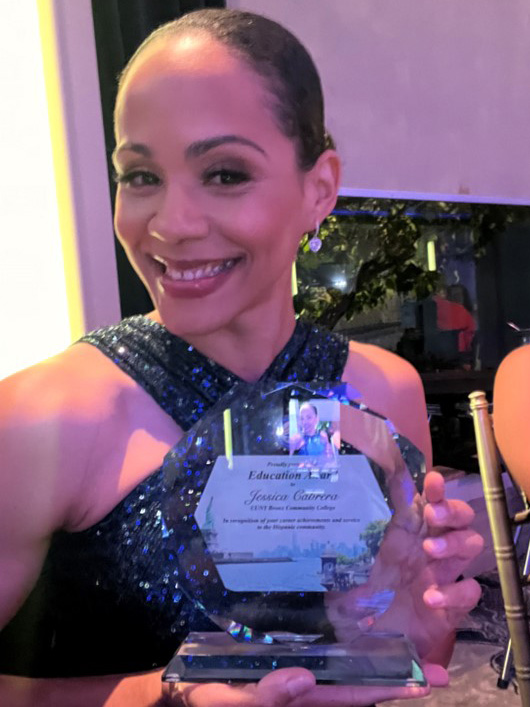 The New York League of Puerto Rican Women named Bronx Community College (BCC) Associate Director of the ASAP program, Jessica Cabrera, as the recipient of its Education Award for her career achievements and service to the Hispanic community. Cabrera received the award August 24th, 2023, at the League's 15th Anniversary Scholarship Gala, which supports scholarships for incoming college students. 
In accepting this honor, Cabrera said, "I couldn't be more proud of my Puerto Rican heritage and, specifically, to be a Puerto Rican woman. It was so amazing to be recognized by my peers and to receive such an outpouring of love and support. My family back in Puerto Rico was very excited that I was representing them here in New York." 
Cabrera was nominated for the award by her ASAP (Accelerated Study in Associates Programs) colleagues, including NY League of Puerto Rican Women Board Member Felipe Ayala. In addition to calling attention to Cabrera's impact on the BCC community, her colleagues billed her as caring, humble, hardworking, and as a leader who looks out for her others.  
The gala, held at the Marina Del Rey in the Bronx, has a tradition of recognizing high ranking NY Puerto Rican officials. Funds raised through the event are aimed at empowering Puerto Rican women to overcome economic obstacles that would prevent them from earning their college degree. 
Cabrera received her B.A. in Communication Studies from Alfred University and her M.A. in Higher and Postsecondary Education from Teachers College, Columbia University. In addition to her role with ASAP, Cabrera is an Adjunct Lecturer for the Communication Arts & Sciences Department.