Opening Doors and Transforming Science Through SRP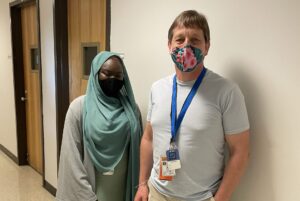 Aissata Diop never imagined she would be working at a Department of Energy National Laboratory when she started her studies at Bronx Community College, CUNY. Born in New York and raised in Mali, she was fascinated by computers and technology at a young age, but it was her studies with Professor Eugene Mananga, Associate Professor of Chemistry and Physics at Bronx Community College, that would change her academic and career trajectory.
Last summer, Professor Mananga and three students worked at Brookhaven National Laboratory as part of the Sustainable Research Pathways High-Performance Computing (HPC) program, designed to connect students from underrepresented groups with National Laboratory scientists to encourage lasting collaborations and jump start careers. His team consisted of Paulin Dongomale, a Master's student in Petroleum Engineering at the Missouri University of Science and Technology and originally from the Central African Republic, and two students from Bronx Community College, Fambougouri Diane and Aissata Diop (both raised in Mali, West Africa).
"I wasn't aware of computation chemistry until this research," says Aissata. " I didn't know what HPC could do, its capabilities and its purpose. So to actually work with a National Lab on HPC was amazing. It really opened my eyes."
Professor Mananga's team paired with Dr. Hubertus van Dam, HPC Applications Architect in the Energy and Photon Sciences Directorate at Brookhaven National Lab. Their research focused on
assessing NWChemEx capabilities, specifically the exothermic reactions within the HZSM-5 zeolite, which is used in oils and detergents.
"My research benefits from programs like SRP because greater diversity means many different perspectives," says Dr. van Dam. "Students like Aissata might not have the same training as students who come from four-year institutions, but they are more willing to ask questions and listen to what you have to say. In the end, we were able to make very good progress."
Aissata earned her Associate's degree in Engineering Sciences and is now at Smith College, where she is pursuing a major in Neuroscience with a minor in Arts & Technology. She hopes to create innovative technologies that can help neuroscientists better understand the human brain through integrated software stack and exascale hardware technology advances.
"This opportunity helped me grow as a scientist and as a person," says Aissata. "I have never been a part of such a diverse community before. It helped me develop my interpersonal skills even more and how to understand others from different traditional backgrounds. You get to recognize the beauty of diversity."
To learn more about Sustainable Research Pathways visit the SRP page.