Pedro and Paul Soto of Public Safety: "We're here for you."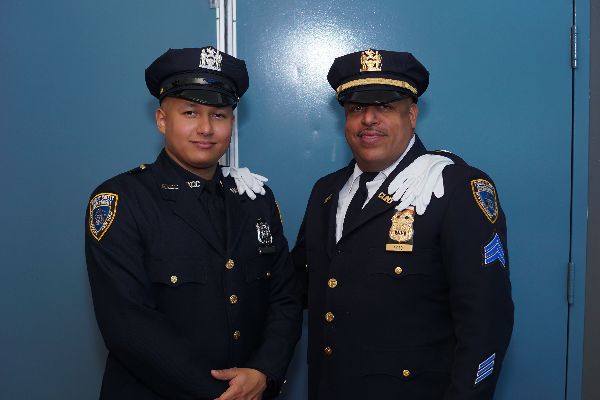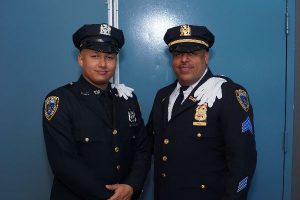 Sergeant Pedro Soto and Peace Officer Paul Soto of the Bronx Community College Department of Public Safety share more than a last name and a job. They share a lifetime. Pedro, 54, is the father of Paul, 31.
"I came to BCC in May of 1996," recalls Pedro, who had previously worked as a private security guard. "My responsibility is to ensure the safety of the College community and the community around the College. I patrol the buildings, talk to students who need any help, direct them to where they can get it." That service has been particularly important during the pandemic.
"I started off at in Public Safety at City College," says Paul. When a position opened up at BCC in 2015, he heard about it through his dad, but 'I didn't know if I wanted to come here because I didn't want to get special treatment because of who my father was. But then director James Verdicchio told me 'No one's going to treat you any differently.'"
"Everywhere I go, I run into a BCC student," Pedro chimes in. "When I go into a hospital, I see a BCC student from the radiology or nursing department. They always remember me. I've been to Puerto Rico and I see BCC students in the airport."
The father and son rarely encounter each other on the job. "We work different shifts," says Pedro. "I work the morning tour, Paul works the 11:00 p.m. tour."
The Bronx born-and-bred pair also have complementary styles and interests. "I'm more of a conversational guy," admits Pedro. "Paul is more of a tech savvy guy. He sends out more emails than me, I'd rather talk."
Both have taken advantage of the great resource that is BCC. "I'm a student in cybersecurity," notes Paul, who will graduate with his associate degree in June. "Then I want to get the A+ Computer Technician certification." From there Paul plans on getting a CUNY position that combines his computer expertise with his anti-crime experience in Public Safety.
Pedro got his criminal justice degree from BCC in 2015. He also took classes at John Jay College of Criminal Justice. Sergeant Soto's future plans are simple: "To retire in a place with warm weather and a beach. I go to Puerto Rico every December where my family is from."
Before the pandemic, they helped run the "Run the Bronx" foot race. Pedro rode in the lead car followed by the runners, Paul biked alongside them shouting word of encouragement.
They were also together when Pedro pinned Paul's shield on his uniform the day he completed the three-month training to qualify as a Bronx Community College Public Safety officer. A photo of that memorable day appears above.
"The students at BCC should know that we're human too and we're accessible," advises Sergeant Pedro Soto. "We're here for you. But we can't help you if you don't talk to us. So help us help you."