Professor Mara Lazda: "I try to help my students connect to their own histories."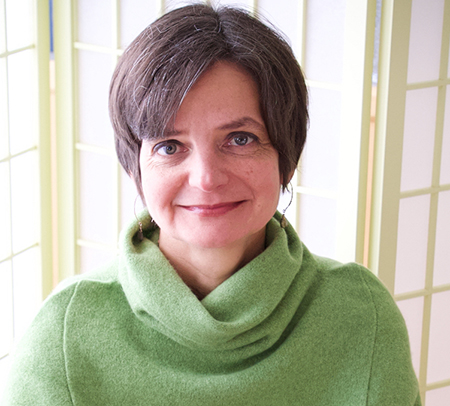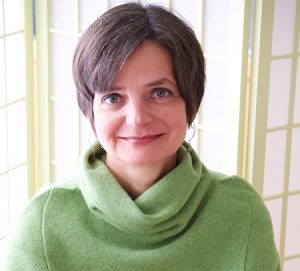 Her students know Professor Mara Lazda as a history teacher. Across campus she is known as an organizer of events focusing on issues of social justice. It's a career that embodies the BCC ideal of education blended with community engagement.
Originally from Wisconsin, Professor Lazda got her B.A. in history from the University of Minnesota and her M.A. and Ph.D. at Indiana University, where she focused on Modern European History and Central Eurasian Studies. It was an interest that was rooted in the history of her own family. "My parents were both refugees from Latvia during World War II. So I grew up thinking about history as a way of understanding myself and the world today."
Dr. Lazda moved east after earning her doctorate. She taught for two years at Bryn Mawr College, then came to New York City where she began teaching at BCC in 2011.
"I came to BCC to teach modern world history. I also teach the history of women and First Year Seminars, where my theme is human rights and individual rights. I wanted students to think about their rights and how to speak up for them."
That interest in social justice has a personal connection. "My own family was connected to resistance movements and protesting Soviet occupation during the Cold War. I lived in Poland in 1983, during the period of the Solidarity movement. That was a period of people getting arrested for expressing criticism of the government.
"My doctoral dissertation was on World War II in Latvia, specifically on gender. The connection with what I do today is that much of it was based on oral histories. I've always been interested in documenting the individual experiences of people fighting for their rights. At BCC I try to help my students connect to their own histories and see themselves in what they're learning."
In recent years, Professor Lazda's devotion to education and social justice has encompassed campus events and groups. In the spring of 2016, when the presidential campaign was putting American political divisions in stark relief, "Many of us wanted to create a space at BCC that would allow for conversations on different perspectives in a respectful way.
"Our first conversation was on countering Islamophobia. It included students from the Muslim Student Association who shared their experiences on campus. In the fall of 2016, President Isekenegbe took the series under his wing and it became known as the President's Conversation Series."
Topics covered since have included police brutality, Constitutional rights, racism, anti-Semitism and intolerance, community activism, and the life of Shirley Chisholm and other leaders for civil rights.
Most recently, Dr. Lazda has been involved in the BCC Social Justice Network (SJN). SJN was founded in 2020 in response to the murder of George Floyd and resulting protests, as well as to the ongoing social, political, economic, and health care inequities made even more clear by the COVID-19 pandemic. This activist forum brings together students, faculty and staff at BCC to "create sustainable action." Dr. Lazda is closely involved in the Social Justice Network, which hosts events that bring together three central components of the group's work: racial wellness, civic engagement, and social justice.
In the fall of 2021, SJN launched the Student Justice Student Leadership Certificate Series.
Dr. Lazda serves on the board of Womxn Up, the supportive space that addresses the needs of BCC women. She was also part of BCC Reads, the program that encourages the entire campus to read the same book, which is often focused on social justice issues, including Rebecca Skloot's The Immortal Life of Henrietta Lacks, Michele Wucker's Why the Cocks Fight: Dominicans, Haitians, and the Struggle for Hispaniola and Michelle Obama's Becoming.
Dr. Lazda recently co-edited The Routledge Handbook of Gender in Central-Eastern Europe and Eurasia with Janet E. Johnson and Katalin Fábián. Her plans for the future include a book that will apply her oral historian skills to the story of her own family. She also hopes to help with the institutionalizing of a social justice program at BCC.
"I've always seen history and education as a teacher-scholar-activist." It is a multiple role needed more than ever in these troubled times.