Ribbon Cutting for BCC Shuttle Bus Service and Outdoor Fitness Equipment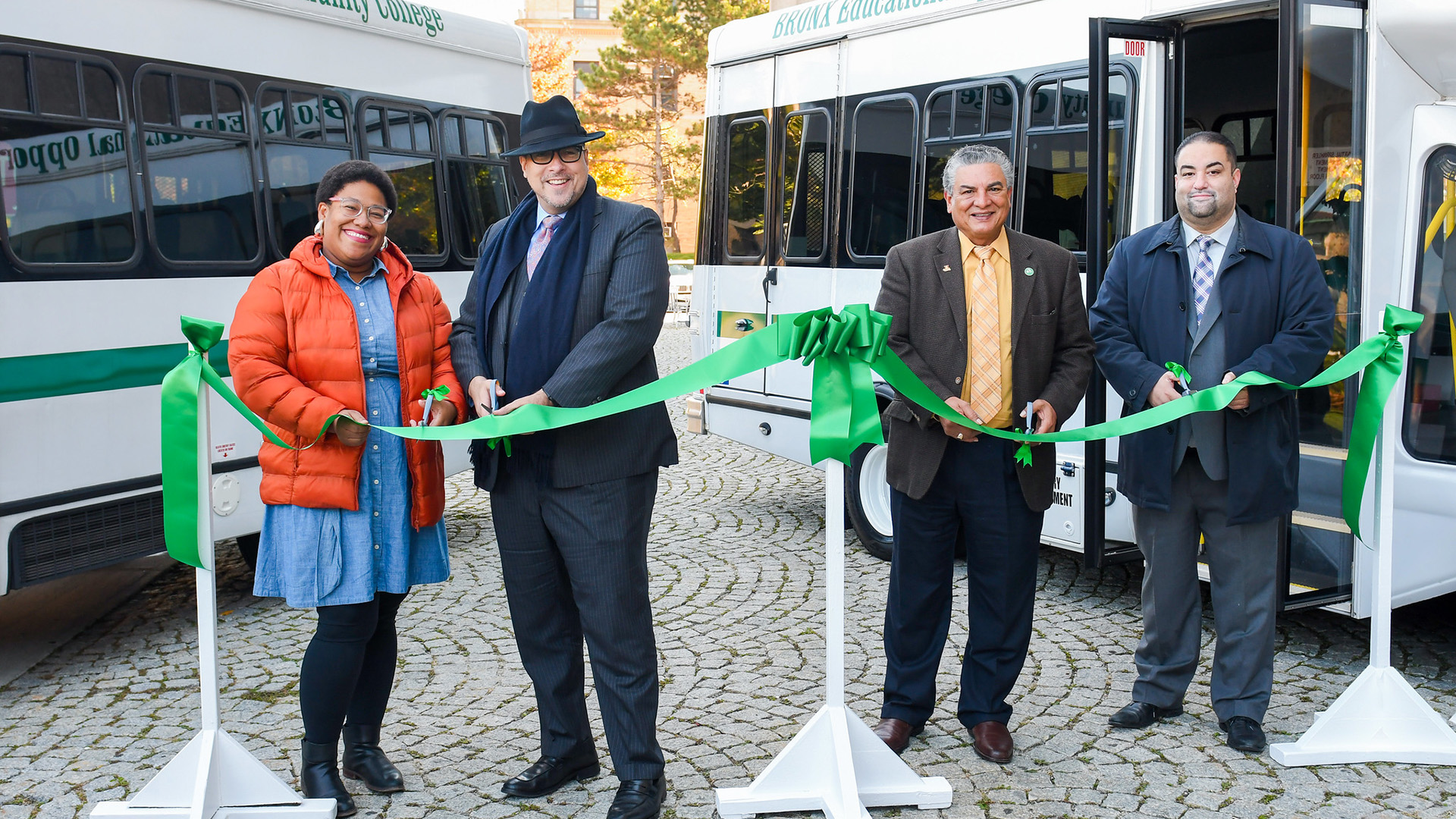 Bronx Community College held a ribbon cutting ceremony celebrating shuttle bus service to and from its University Heights campus, in addition to outdoor fitness equipment installed near the main college throughway between Gould Hall and Ohio Field. The shuttle buses and outdoor fitness equipment were made possible by a $325,000 State and Municipal (SAM) grant from NY State Senator Gustavo Rivera's Office.
Shuttle service will be provided free-of-charge to and from three area transportation hubs, including the corner of Fordham Rd and University Avenue (Next to St. Nicholas of Tolentine Church); the corner of Fordham Rd and Jerome Avenue (F/O CITY MD Urgent Care); and Burnside and Jerome (F/O 9 West Burnside Ave.). The shuttle buses, which are ADA accessible, are scheduled to arrive on average every 20-30 minutes, except in cases of heavy traffic or accidents, when service is inevitably delayed.
"Bronx Community College is constantly striving to provide resources for students to accomplish their academic goals and enjoy their higher education experience," said State Senator Gustavo Rivera. "I am honored to contribute to BCC's efforts and support its students by securing State funding for their shuttle buses and outdoor gym."
The shuttle service will operate Mon. – Thurs. 11 am – 9:30 pm when classes are in session, with no service 3:30-4 pm daily or on Fridays. Pickup and drop-off will be in front of Meister Hall at BCC.
"I want to thank Senator Rivera for making this possible," said BCC Interim President Dr. Milton Santiago. "We are always looking for ways we can assist our students by easing the burden of juggling a busy home life and making it less stressful getting to and from campus. And the outdoor fitness area will help provide a convenient way for our students to maintain a healthy lifestyle."
Student Government Association (SGA) President Krishta Fernandez and BCC Director of Public Safety Saul Fraguada also attended the event and delivered remarks.
"We are pleased to be able to offer safe and reliable service to the college community, especially during the evening hours and in inclement weather," Fraguada said.
More information on the shuttle bus service and routes can be found on the BCC website.