Ribbon-Cutting for Completion of Two Projects on Gould Memorial Library's Renovation at Bronx Community College
Bronx Community College (BCC) celebrated the completion of two major capital projects for the historic Gould Memorial Library (GML). BCC President Thomas A. Isekenegbe, CUNY Chancellor Felix Matos Rodriguez, Bronx Borough President Vanessa L. Gibson, and New York City Council Member Eric Dinowitz were present to announce the completion of the projects and present a check for $1 million dollars for Fiscal Year 23 in capital funding for the installation of a new elevator in GML.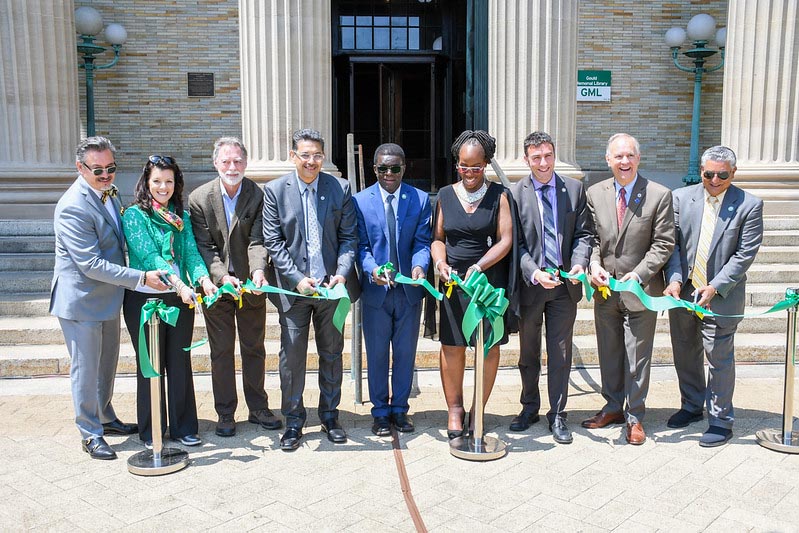 President Thomas Isekenegbe said, "These projects are an important step in revitalizing the building for the use of BCC's students, faculty, staff and community. I want to thank our Chancellor and our partners in government who are gathered here today for their friendship and support of our college and their commitment to public higher education."
"The completion of these major capital projects will ensure that the Gould Memorial Library remains a safe and beautiful event space where BCC community members can gather, share ideas and celebrate for generations to come," said CUNY Chancellor Félix V. Matos Rodríguez. "We express sincere thanks to our funding partners, including Governor Hochul, Mayor Adams, the New York City Council and Bronx Borough President Vanessa Gibson, for supporting the vital mission of CUNY and investing in this National Historic Landmark campus."
The first major project was the total reconstruction of the dome and oculus of GML. This extensive renovation project had a total cost of $18,300,000, and funding was provided from the State Capital budget, NYC Mayoral, City Council, Borough President and NY State Parks Recreation & Historic Preservation Grants. The second project was the installation of an egress stair in the rotunda at a total cost of $2,000,000, and funding for this project was provided by NY State Capital and NY City Council.
The total reconstruction of the dome and oculus has restored the exterior of the library to its former glory, ensuring its preservation for future generations. The completion of these capital projects marks an important moment in the history of GML and BCC.
Gould Memorial Library is a NYC Landmark building designed by renowned architect Stanford White and completed in 1899. It is a grand example of Beaux-Arts architecture and was originally built as part of New York University's Bronx campus and was designated a New York City landmark in 1979.
BCC and its partners are proud to have completed these capital projects and to continue to invest in the preservation and enhancement of this historic landmark. The installation of the new elevator and completion of these major capital projects will ensure that GML remains an accessible, safe and beautiful resource for generations to come.