Stock Market Game Begins on Tuesday, April 18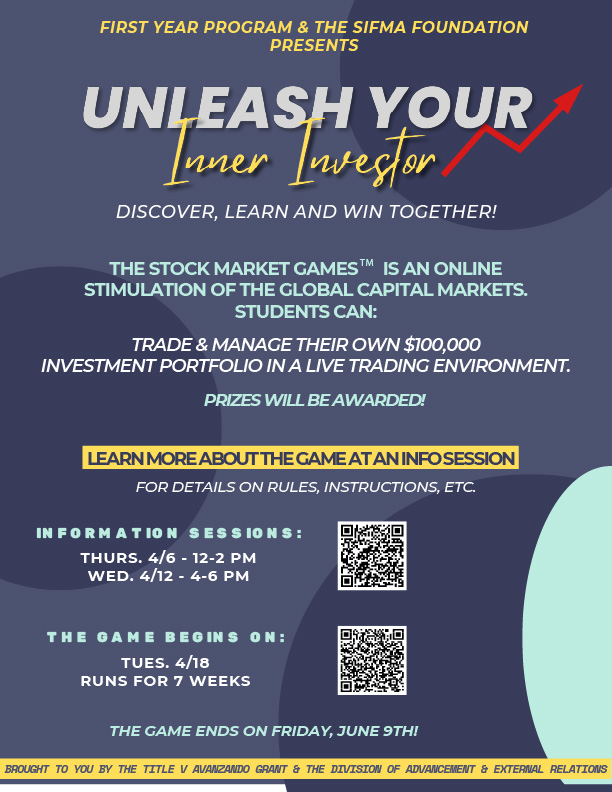 Students will learn how to build their investment skills and how to make their money work for them at the Stock Market Game beginning on Tuesday, April 18 as part of Financial Literacy Month.
The First-Year Program students will be part of an 8-week online simulation of the global capital markets where they will have a chance to learn about the world of economics, investing and personal finance.
They will have the opportunity to trade and manage a virtual $100,000 investment portfolio, striving to create the best-performing portfolio of stocks, bonds, mutual funds and more in a live trading environment.
The Stock Market Game™ at BCC
Game begins: Tuesday, April 18, 2023 (Friday, April 28th last day to join)
Game ends: Friday, June 9, 2023
Game format:
The entire game is played virtually via the portfolio site or via the SMG App
Students may participate individually or form teams (up to 5 students/team)
If you are part of a team, each member MUST complete the sign-up form below.
Awards and prizes: For the winning team who has the most return on investment (ROI) at the end of the game.
Student/team commitment:
Students participate throughout the entirety of the game.
Students in a team determine how often to meet and in which modality (in-person, virtual).
Students in a team select a captain to meet bi-weekly with the FYP Staff to discuss team updates/progress. Those participating individually will meet with the FYP Staff.

Sign up HERE to join the game
No financial literacy knowledge is necessary to participate in The Stock Market Game™ at BCC.
Learn more about the Stock Market Game https://www.stockmarketgame.org/
The Stock Market Game™ is brought to you by Title V DHSI Grant from the US Department of Education ¡Avanzando! First Year Success.
If you should have any questions or concerns, please email FYP@BCC.CUNY.EDU.